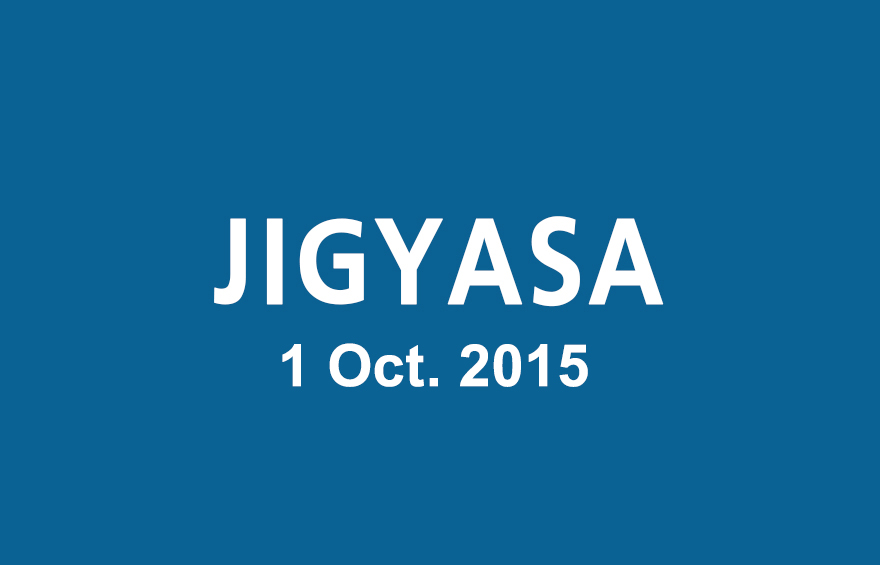 Dear Aspirants,
Here is the JIGYASA: Daily Current Affairs quiz of November 23, 2015 for you!!
The human Resource Development (HRD) Ministry has constituted a 13-member expert committee exclusively on Sanskrit in its attempt to revive interest in the ancient language. The committee is headed by…
V V Bhat
Smriti Irani
Bibek Debroy
N Gopalaswami
Answer: 4
Centre announces Rs 3,250 cr package for decongestion of roads & development of one of the following states/UT. Identify it from the given options.
Delhi
Bihar
Chandigarh
Andhra Pradesh
Answer: 1
Name the 15-year-old Pakistani Boy for whom External Affairs Minister Sushma Swaraj has assured in November, 2015, to facilitate the return to his country who was stranded in India for over two years.
Mohammad Iqbal
Mohammad Ashim
Mohammad Rahim
Mohammad Ramzan
Answer: 4
Name the first county to host the first South Asian Annual Disaster Management exercise in November, 2015, SAADMEx-2015which will provide a platform for strengthening Regional Disaster Response Mechanism amongst the South Asian Association for Regional Cooperation, SAARC countries.
India
Japan
China
Indonesia
Answer: 1
Name the noted poet who has returned his Padma Shri on 22nd November 2015, in protest of moral asymmetry in the nation.
Arundhati Roy
Jaishakar Prasad
Ajay Shrivastva
Jayanta Mahapatra
ANSWER: 4
ASEAN leaders on 22nd November, 2015 declared the establishment of an EU-style regional economic bloc, a single market with a free flow of goods, capital and skilled labour in the region. Name the economic bloc.
ASEAN Economic bloc
ASEAN Economic Forum
ASEAN Economic League
ASEAN Economic Community
Answer: 4
Who among the following has confirmed as the winner in presidential elections in Argentina in November, 2015?
Daniel Scioli
Mauricio Macri
Domingo Matheu
Cristina Fernández de Kirchner
Answer: 2
With which of the following countries India has inked a pact for 100 MW power from Tripura's 726 mg MW gas-fired thermal power project at Palatana in Gomati district in November, 2015?
Nepal
Bhutan
Sri Lanka
Bangladesh
Answer: 4
Name the first player to win ATP World Tour Finals for 4th consecutive time in November, 2015.
Novak Djokovic
Rohan Bopanna
Florin Mergea
Jean-Julien Rojer
Answer: 1
Who among the following has won IBSF World Snooker Championship for record 15th time in November, 2015?
John Higgins
Zhua Xintong
Pankaj Advani
Stuart Bingham
Answer: 3
Happy reading!
TEAM CL