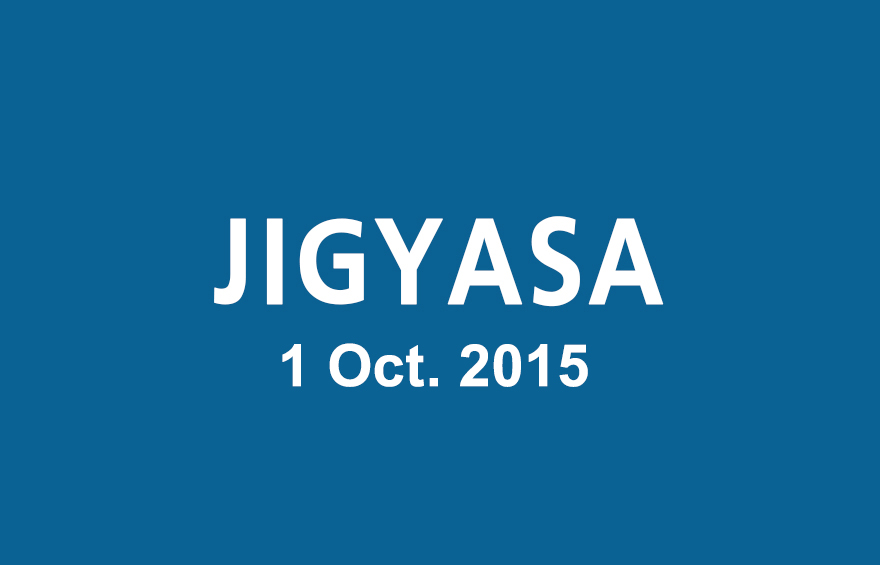 Dear Aspirants,
Here is the JIGYASA: Daily Current Affairs Quiz of Janury11, 2016 for you!!
Chief Minister Anandiben Patel inaugurated the 28th edition of the International kite festival on 10th January, 2016 in….
Surat
Rajkot
Vadodara
Ahmedabad
Answer: 4
Which of the following Companies has announced in January, 2016 to develop and promote Bhubaneswar as a floral hub and make the city green?
Sterlite Technologies Ltd.
Hindalco Industries Limited
Bharat Aluminium Company Limited
National Aluminium Company Limited
Answer: 4
Name the 1996 batch IPS officer who has been appointed as the first woman station house officer of the Government Railway Police in January, 2016?
Archana Singh
Kanwaljeet Deol
Meera Borwankar
Kanchan Chaudhary Bhattacharya
Answer: 1
World Hindi Day is observed on…
4th January
10th January
4th September
10th September
Answer: 2
Which of the following state's government in January, 2016 has restricted the number of memorials of the same national icon or respected personality to two across the state, in a move to streamline demand for statues and memorials across the state?
Bihar
Maharashtra
Uttar Pradesh
Andhra Pradesh
Answer: 2
Which of the following countries has been elected as member of UNICEF executive board in January,2016?
China
Nepal
Sri Lanka
Bangladesh
Answer: 2
The new ammunition Penetration-Cum Blast (PCB) and Thermobaric (TB) Ammunition was developed by two Pune-based research labs of the Defence Research and Development Organisation (DRDO) in January, 2016 which was more destructive than before and was successfully test fired at Chandipur in Odisha on 6th January 2016. It was specially designed for tank called…
Arun
Arjun
Aakash
Chandra
Answer: 2
Who among the following has made a hat trick by winning in Chennai Open Tennis in January, 2016?
Borna Coric
Benoît Paire
Andrey Rublev
Stanislaus Wawrinka
Answer: 4
Name the first woman to race in a Formula 1 grand prix, who has died in January, 2016 at the age of 89.
Divina Galica
Desire Wilson
Lella Lombardi
Maria Teresa de Filippis
Answer: 4
Puskar Fair is organized every year in…
Bihar
Odihsa
Rajasthan
Maharashtra
Answer: 3
Happy learning!
TEAM CL