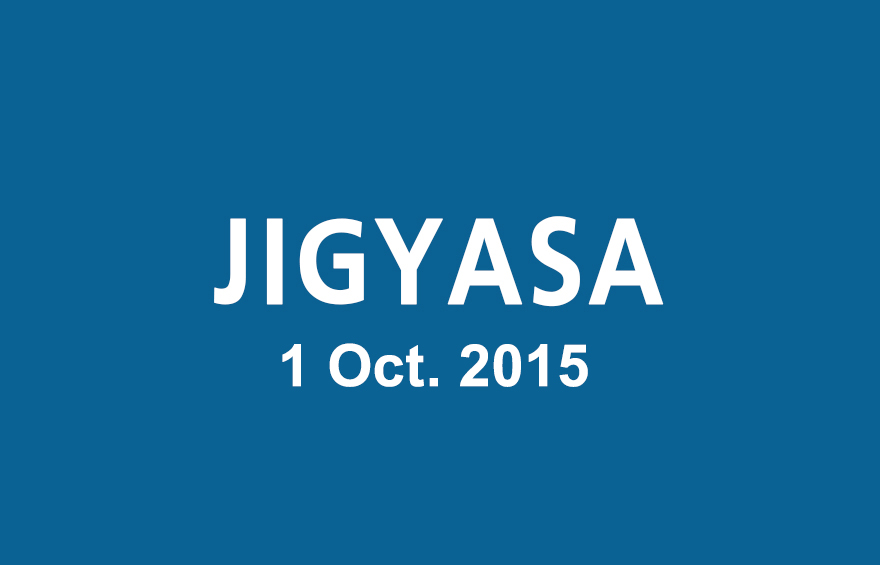 Dear Aspirants ,
Here is the  JIGYASA: Daily Current Affairs Quiz of January10, 2016 for you!!
In which of the following states Governor's rule has been imposed in January, 2016?
Punjab
Jharkhand
West Bengal
Jammu and Kashmir
Answer: 4
According to Laxman Singh Rathore, Director General of the India Meteorological Department (IMD), November and December were the warmest in terms of temperature usually recorded during winter and the spell is expected to continue in the month of January, 2016. It is effect of…
La Nina
El Nino
Global Warming
None of the above
Answer: 2
Inspired by Prime Minister Narendra Modi's Digital India initiative, four techies from Madhya Pradesh's Rajgarh district have turned three remote villages into first free Wi-Fi hamlets in the country without government funding inaugurated in January, 2016. Which of the following villages is not one among them?
Devria
Neemuch
Shivnathpura village
Bawadikheda Jagir
Answer: 2
The New Delhi Municipal Council (NDMC) stated in January, 2016 that it will soon launch an initiative under which the beggars and ragpickers will soon manage toilet complexes in the national capital . It is called….
Aatm Nirbhar
Aatm Nirbharta
Aatm Sanrakshan
Nirbharta Mission
Answer: 1
Name the Indian-American professor who has discovered a new method that may help in detecting dwarf galaxies dominated by dark matter and explain ripples in the outer disk of the galaxy in January, 2016.
Sarita Chakrabarti
Sabnam Chakrabarti
Sandhya Chakrabarti
Sukanya Chakrabarti
Answer: 4
Which of the following pairs has won the WTA Brisbane Tennis trophy, Women's double in Brisbane on 9th January, 2016.
Sara Errani and Roberta Vinci
Sania Mirza and Martina Hingis
Angelique Kerber and Andrea Petkovic
Bethanie Mattek-Sands and Czech Republic Lucie Šafářová
Answer: 2
Who among the following has won the Brisbane International Tennis Trophy on 10th Janury, 2016?
Andy Murray
Milos Raonic
Roger Federer
Novak Djokovic
Answer:2
Prime Minister Narendra Modi on 10th January, 2016 released a book titled "Maru Bharat Saru Bharat" (My India Noble India). Who is the author of the book?
Vidhya Sagarji
Pushpdant Sagarji
Shantisagar Maharaj
Ratnasundersuriswarji Maharaj
Answer: 4
Name the first woman ambassador of Iran who has been appointed as the head of its embassy in Malaysia in November, 2015.
Azar Majedi
Marzieh Af-kham
Masoumeh Abad
Mahnaz Afkhami
Answer: 2
Who among the following has been elected as the General President of the 105th Indian Science Congress scheduled to be held in 2017-18?
Geetha Bali
A. K. Saxena
Dr Achyuta Samanta
Ashok Kumar Saxena
Answer: 3
Happy learning !
TEAM CL