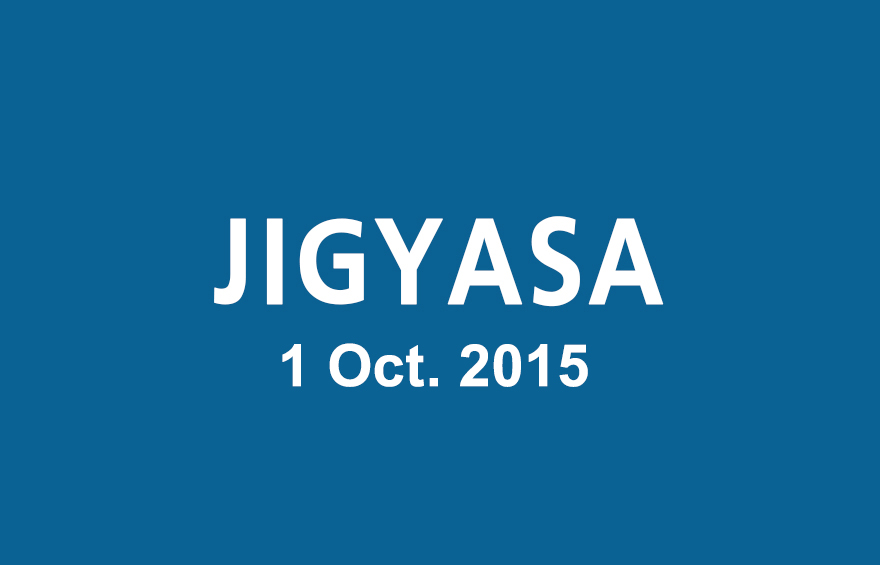 Dear Aspirants,
Here is the JIGYASA: Daily Current Affairs Quiz of January 24,2016 for you!
Defence Minister Manohar Parrikar on 23rd January, 2016 hoisted the largest tricolour in the country atop the tallest pole in
Ranchi
Kolkata
Hyderabad
New Delhi
Answer: 1
Pertaining to which of the following freedom fighter Prime Minister Narendra Modi released the first set of 100 declassified files at the National Archives of India here on 23rd January, 2016?
Bhagat Singh
Lala Lajpat Rai
Netaji Subhas Chandra Bose
Mohan Das Karam Chandra Gandhi
Answer: 3
Kerala formation Day is observed every year on…
1st January
24th January
1st November
24th November
Answer:3
Which of the following countries has submitted its first Biennial update report to United Nations Framework Convention on Climate Change (UNFCCC) in January, 2016?
India
China
Pakistan
Sri Lanka
Answer:1
Andhra Pradesh government has launched in January, 2016 'Giriputrika Kalyana Pathakam' a scheme which has been designed to provide a onetime financial assistance of …. to each tribal woman who gets married.
50,000
80,000
Rs, 1,00,000
Rs, 5, 00, 000
Answer:1
For which of the following states the Union Cabinet on 24th January, 2016 recommended imposition of President's Rule.
Assam
Manipur
Arunachal Pradesh
Jammu and Kashmir
Answer:3
Which of the following countries has topped South Asia in human development index, 2015 released in January, 2016?
India
Pakistan
Sri Lanka
Afghanistan
Answer: (3)
A once rare mosquito-borne virus is spreading rapidly through the Americas in January, 2016 and are alarmed because of a possible link between the virus and a birth defect called microcephaly that causes babies to be born with abnormally small heads and potential developmental problems. It is called…
Answer:1
Name the Tabla Player who has died on 22nd January, 2016 at the age of 80.
Alla Rakha
Nayan Ghosh
Bickram Ghosh
Pt Shankar Ghosh
Answer:4
Ever year from 15th to 21st January is celebrated as…. in India.
Yoga Week
PIN Code Week
Social work Week
Immunization Week
Answer: 2
Happy learning!
TEAM CL