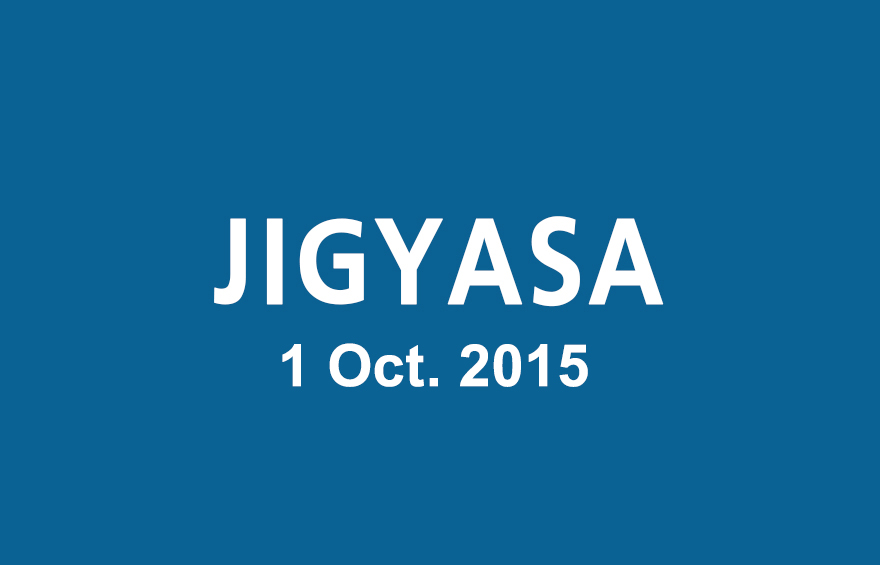 Dear Aspirants,
Here is the JIGYASA: Daily Current Affairs Quiz of January 13, 2016 for you!
Prime Minister Narendra Modi has stressed the need for establishing the one of the following temple as a premier religious tourist destination in January, 2016. Identify it from the given options.
Somnath Temple
Kamakhya Temple
Omkareshwar Temple
Shani Dham Temple
Answer: 1
Which of the following states becomes the 1st state in country to achieve 100% primary education as declared by the vice-President Hamid Ansari in January, 2016?
Kerala
Mizoram
TamilNadu
Andha Pradesh
Answer:1
Which of the following state's government has decided to impose 13.5 per cent tax on luxury items in January, 2016 to mop up additional revenue for carrying development work?
Bihar
Odisha
Gujarat
Jharkhand
Answer:1
High Court has issued order staying the Bulbuli fight in January, 2016, a centuries old tradition of fight between BULBULs is organised in the Hayagriba Madhab Temple of Hajo. It belongs to which of the following states?
Assam
Odisha
Tripura
West Bengal
Answer: 1
Union Transport Minister Nitin Gadkari laid foundation stones of 342 km-long seven National Highway projects worth Rs 3,000 crore in Janaury, 2016 in….
Chhattisgarh
Uttar Pradesh
Answer: 3
Which of the following state government has decided in January, 2016 to bring Plus II education under the Mass Education department from existing Higher Education department from next academic year?
Bihar
Kerala
Assam
Odisha
Answer: 3
Name the San Francisco-based global non-profit organisation which has launched India operations in January, 2016, for empowering women in technology and entrepreneurship, and made Hyderabad its hub.
Girls in Tech
Linux Foundation
Maybach Foundation
The Emperor's Bridge Campaign
Answer: 1
For the first time, two Indian cities have made it to the Unesco's Creative City Network in January, 2016. Identify the cities.
Puri and Jaipur
Varanasi and Jaipur
Amritsar and Jammu
Ajmer and Varanasi
Answer: 2
The government has set up a committee in January, 2016 to sort out all issues related to implementation of Mumbai-Ahmedabad high-speed rail project with a similar panel constituted by Japan. It will be headed by…
Mital
Navin Tandon
Suresh Prabhu
Arvind Panagariya
Answer: 4
Who among the following has taken over as the Chairman of Competition Commission of India (CCI) in January, 2016?
Ashok Chawla
Sudhir Mital
Augustine Peter
Devender Kumar Sikri
Answer: 4
Happy learning!
TEAM CL