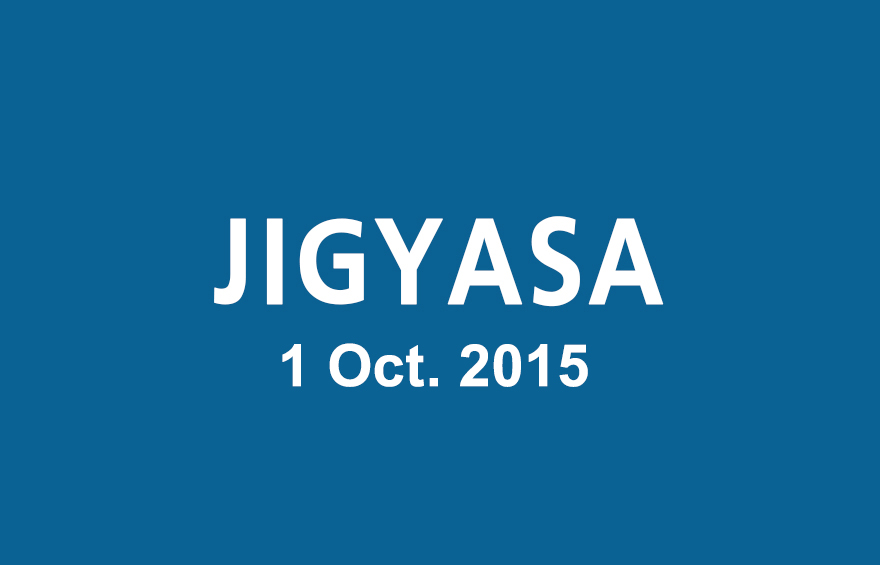 Dear Aspirants,
Here is the JIGYASA: Daily Current Affairs Quiz of February 9, 2016 for you!!
With which of the following countries the border troops of India held their first joint tactical exercise in the Chushul-Moldo area along the northern border in February 2016?
Pakistan
China
Nepal
Bhutan
Answer: 2
 
David Coleman Headley was recently in news. He is connected to which of the following?
Mumbai Terror Attack 2008
Parliament Attack 2006
Bofors scandal
All of the above
Answer:1
Madhesi ethnic group was recently in news for protesting against the new Constitution of its country. This ethnic group is from which of the following countries?
Bhutan
Nepal
Srilanka
Myanmar
Answer: 2
As per the report of Central Statistics Office (CSO), Indian economy expected to grow at _______in full year (2015- 2016):
Answer:1
Which of the following public sector banks (PSBs) has topped the chart of bad loans during period of 2014-2015?
Punjab National Bank
Indian Overseas Bank
SBI
Central Bank of India
Answer: 3
The Reserve Bank of India has cancelled the certificate of registration of four non-banking financial companies, which among the following is not one of them?
Goyal Commercial Pvt Ltd
First Debt Management Co. of India Ltd
Nostalgia Finvest Private Limited
Sarad Realtors Private Limited
Answer: 4
The Telecom Regulatory Authority of India (TRAI) barred telecom service providers from charging differential rates for data services, effectively prohibiting Facebook's Free Basics and Airtel Zero platform by Airtel in their current form. Who is the current chairman of TRAI?
Rahul Khullar
Ram Sewak Sharma
Vijay Kumar Verma
Raghavendra Joshi
Answer: 7
8.Which of the following social networking services shares has slumped $11 billion in value on stock's worst day since debut of the company in February 2016?
LinkedIn Corporation
Twitter Corporation
Facebook Corporation
Google Corporation
Answer:1
In a world's first, scientists have successfully converted paper waste into 'green cellulose aerogels' that are non-toxic. This novel material can be used ideal for applications of which of the following?
Oil spill cleaning
Heat insulation
Coating materials for drug delivery
All of the above
Answer: 4
In which of the following sports India has won the gold medal in South Asian Games in February 2016?
Badminton
Archery
Squash
All of the above
Answer: 4
Happy learning!
TEAM CL