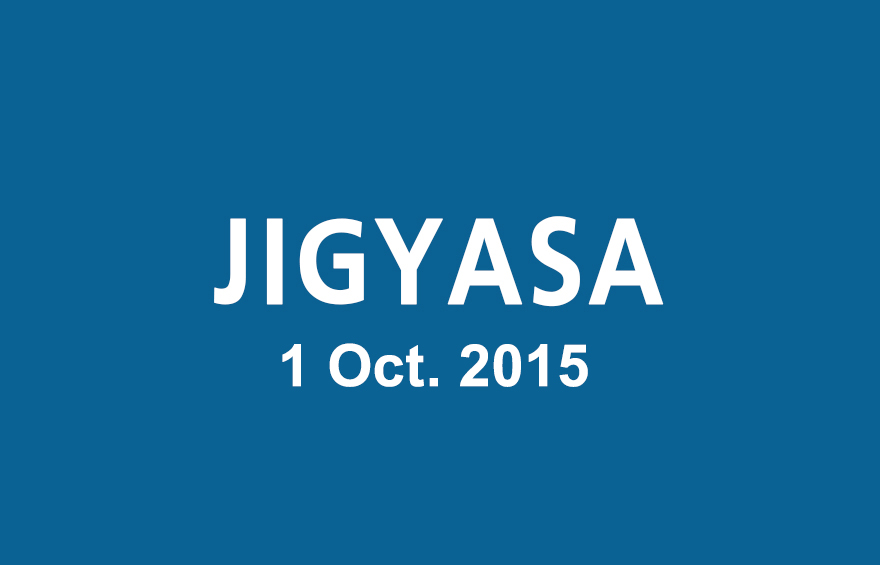 Dear Aspirants,
Here is the JIGYASA: Daily Current Affairs Quiz of Deember3, 2015 for you!!
Prime Minister Narendra Modi will launch …. campaign in New Delhi on 3rd December, 2015 on the occasion of International Day of Persons with Disabilities.
Fantastic India
Incredible India
Accessible India
Implausible India
Answer: 3
Which of the following states in India is the biggest economy within India at Rs 16.87 lakh crore in terms of gross state domestic product (GSDP), according to the latest report by credit rating agency Brickwork Ratings in December, 2015?
Gujarat
Tamil Nadu
Maharashtra
Uttar Pradesh
Answer: 3
Who among the following has been elected as the new president of Burkina Faso a West African country on 1st December 2015?
Michel Kafando
M. C. Kabore
Gilbert Diendéré
Blaise Compaoré
Answer: 2
Which of the Balkan countries has been formally invited by NATO to join the alliance in a move against Russia in December, 2015?
Serbia
Croatia
Slovenia
Montenegro
Answer:4
Which of the following Indian multinational conglomerate in December, 2015 has announced a strategic partnership with China's Industrial & Commercial Bank of China (ICBC), the world's largest bank by assets, to fund its growth across the world?
Tata Group
Essar Group
Reliance Industries
Aditya Birla Group
Answer: 2
Which of the following Indian multinational IT Consulting companies will acquire German IT consulting firm Cellent AG for INR 518 crore in December, 2015?
Wipro
Infosys
Cognizant
Tata Consultancy Services
Answer: 1
Manipal Hospitals corporate and teaching facilities will adopt IBM's supercomputer, in December, 2015, to fight cancer. It is called…
Denis
Collatz
Watson
Asteroids
Answer: 3
The government on 2nd December, 2015 approved a post facto agreement with one of the following countries to expand bilateral cooperation in the field of solar energy. Identify the country?
China
Japan
France
Germany
Answer: 4
Which of the countries celebrate its National Day on 2nd December?
UAE
Laos People's Democratic Republic
Both A and B
None of the above
Answer: 3
International Day for Abolition of Slavery was observed on … ?
1st December
2nd December
3rd December
4th December
Answer: 2
Happy Learning!
TEAM CL