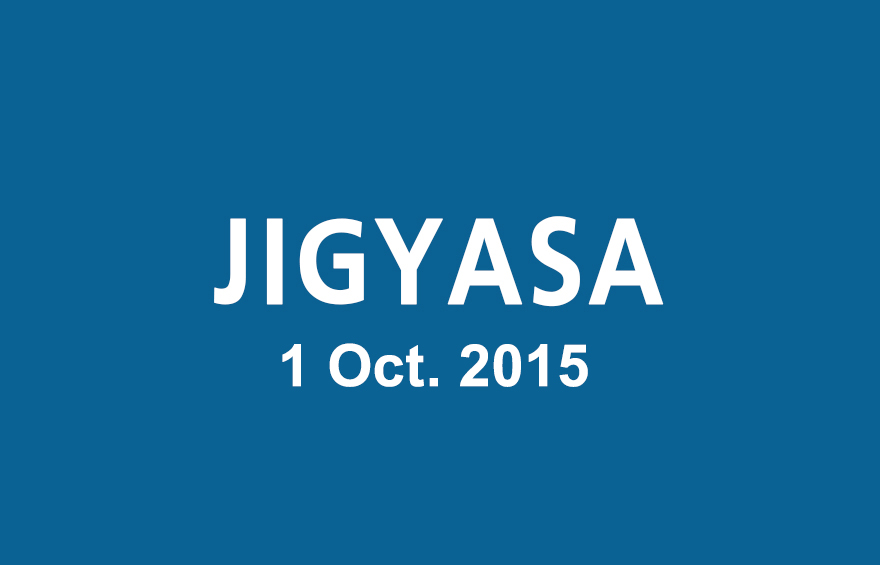 Dear Aspirants,
Here is the JIGYASA: Daily Current Affairs Quiz of December 7, 2015 for you!!
Q.1 December 7, 2015 is the 74th anniversary of which of the following events?
1) The Treaty of Versailles
2)Â Â  The Nanking Massacre
3)Â Â  The Battle of Trafalgar
4) Â Â Â The attack on Pearl Harbor
Answer: 4
Q.2 A coalition of African countries and donors have unveiled African Restoration Initiative (AFR100). What is the purpose of this initiative?
1).   To cut carbon emissions by 100 per cent
2).   100 percent tax waiver to poor African nations.
3).   To restore 100 million hectares of degraded and deforested land.
4).   To donate 100 million US Dollar to fight against Ebola.
Answer: 1
Q.3 Which of the following countries has won Men's Hockey World League Final 2014-2015?
1)Â Â  Australia
2)Â Â  Belgium
3)Â Â  Germany
4)Â Â  Netherlands
Answer: 1
Q.4 Which of the following days has been as 'Armed Forces Flag Day' observed across India?
1)Â Â  December 4
2)Â Â  December 5
3)Â Â  December 6
4)Â Â  December 7
Answer:4
Q.5 Railways Minister Suresh Prabhu flagged off the first double-decker Shatabdi train through video conference which will connect:
1)Lucknow to Delhi
2)Chandigarh to Shimla
3) Goa to Mumbai
4) Bengaluru to Mangalore
Answer: 3
Q.6 The Chief Economic Advisor Arvind Subramanian led panel has submitted its report. This panel is associated with:
1) Possible Tax rates under Goods and Services Tax (GST)
2)Â Â  Climate change
3)Â Â  Agriculture subsidy
4)Â Â  Inflating
Answer: 1
Q.7 According to the latest data released by the Department of Industrial Policy and Promotion of Ministry of Commerce and industry, which of the following countries has replaced Mauritius as top source of Foreign Direct Investment (FDI) into India?
1)Japan
2) Singapore
3)Â Â  UAE
4)Â Â  Malaysia
Answer: 3
Q.8 From which country India received its first uranium consignment for the country's nuclear power reactors?
1) Australia
2)Â Â  Kazakhstan
3)Â Â  Canada
4)Â Â  France
Answer: 1
Q.9 On December 6, the Prime Minister Narendra Modi released two commemorative coins of 125 rupees and 10 rupees, as part of the 125th birth anniversary year of which of the following?
1)Â Â  Dr. Babasaheb Bhim Rao Ambedkar
2)Â Â  Pt. J L Nehru
3)Â Â  S C Bose
4)Â Â  R N Tagore
Answer: 3
Q.10 India completes historic test series win against South Africa. The final match of this series was played in
1)Â Â  Nagpur
2)Â Â  Guwahati
3) Â Delhi
4)Â Â  Ahmedbad
Answer: 3
Happy learning!
TEAM CL