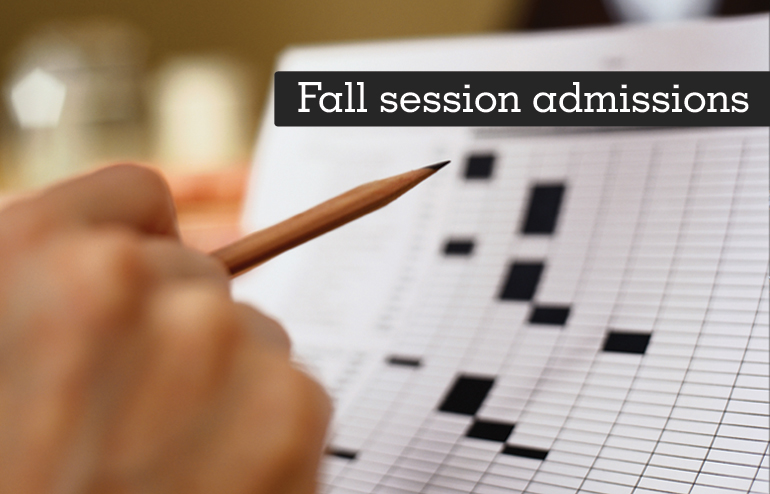 It is early December now and you can still catch up with the fall admissions of 2016. Yes, you have missed the first round deadlines for most of the prestigious universities, but thankfully they have multiple rounds of deadlines for acceptance of the application forms.
Universities overseas have Round 1, Round 2, Round 3 and a few have Round 4 of application.
It is a myth that applying in round 1 increases the chance of one's acceptance.
If you are not ready for Round 1 you can apply for further rounds (especially round 2).
Far too many candidates believe that the number of places at MBA programs is limited and that applying in a later round might mean that those places are already taken. This may be true for later rounds (Round 3 and later at top schools) but is not much of an issue between Round 1 and Round 2.
Of course applying in earlier rounds enhances any possibility of scholarships.
Are the IVY leagues still a possibility?
Let me share with you the trends of application acceptance seen at Yale and McCombs in the last couple of years.
     Figure 1: Acceptance (%) in ROUND 1, Round 2 and Round 3 for Yale School of Management.
Figure 2: Acceptance (%) in different rounds at McCombs Business School, University of Texas, Austin.
So, we can clearly see that the acceptance rates in the second round are as promising as the first round, while in the third round it may decrease substantially in IVY leagues, but in other premier institutions the possibility is still high.
Here are the deadlines for the applications at a few of the premier institutions for Fall 2016.
| | | | |
| --- | --- | --- | --- |
| University | Round 1 | Round 2 | Round 3 |
| Harvard | Deadline over | 6th January | 4th April |
| Cornell | Deadline over | 15th January | 17th March |
| Tucks | Deadline over | 6th January | 4th April |
| Wharton | 8th December | 9th February | |
| Yale | Deadline over | 7th January | 21st April |
| MIT | Deadline over | 14th January | 11th April |
| Stanford | Deadline over | 12th January | 5Th April. |
Apart from the IVY-Leauge B-Schools, there other good B-Schools in the US and elsewhere that you can target; The following are a few noteworthy –
School of Business Administration, University of Miami
Claremont Graduate University – Peter F. Drucker
Henley Business School
University of Edinburgh Business School
The Johns Hopkins Carey Business School
Imperial College Business School, Imperial College London
Pontificia Universidad Católica de Chile
Central European University, CEU Business School
University of Cape Town, Graduate School of Business
Kenan-Flagler Business School, University of North Carolina
Business School Lausanne
DeGroote School of Business, McMaster University
Universiteit van Amsterdam, Amsterdam Business School
Long Island University, Post Campus (ISC)
UQ Business School, University Queensland
How do I go about from now on to grab a seat at a prestigious institution in the US / Abroad? How can Career Launcher help me in the process?
Of course for the Round 2, you should have taken your GMAT and TOEFL/EILTS by now; else you can apply only for the Round 3, scheduled in March/April 2016. Kindly finish your GRE/GMAT as quickly as you can.
Hope you have got the clarity of your own vision, purpose. What is that you really want to do in life and hence which course you would like to pursue. Creation of vision is time consuming one and everything else flows from there – Statement of Purpose (SOP), Essays etc.
If these things are clear, then we can quickly work on a few things –
CL Accendere's proprietory algorithms help you in identifying the program and university to apply for, with your profile data and GRE/GMAT scores
Looking at those universities and the requirements, we can help you think and build a sound SOP that will be very compelling for the program and university you are applying for.
Get help in editing your Statement of Purpose, Identifying the right recommenders, mock interviews, financial documentation and ensuring that you have filled your application forms right.

We have a dedicated team who mentor and guide students throughout the application process.
We help in drafting an effective Essay & SOP and a strong LOR for applications.
Explore the possibilities of getting financial loans etc.
Facilitate on Visa application and interviews

It is our Endeavour to ensure that from the time you walk into our office to the time you board your flight; we are there with you every step of the way
Those who are aiming for Spring/Winter 2017 or Fall 2017, we can do much more, as we have time for –
Profile Building: Mentoring and advising you to strengthen your profile to be compelling
Guiding you to identify an area of research and facilitate you publish/preset a Research Paper
Scholarship Consulting: Exploring the possibilities of clinching scholarships based on your sound profile, including research credentials.
Feel free to write to sreeni@careerlauncher.com for any kind of help and facilitation.
Best wishes.
Sreeni with inputs from Pillutla Soma Sundar (Accendere)