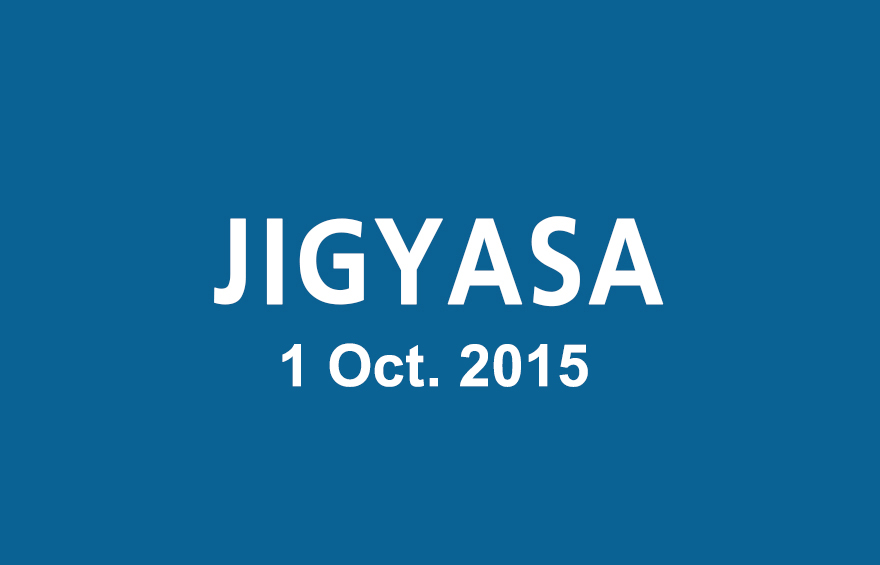 Dear Aspirants,
Here is the JIGYASA: Daily Current Affairs Quiz of November 9, 2015 for you!!
Name the most powerful woman in the Indian business sector, according to Fortune India, 2015.
Shikha Sharma
Aruna Jayanthi
Chanda Kochhar
Arundhati Bhattacharya
Answer: 4
Name the Bollywood Actor who led a march to the Rashtrapati Bhavan on 7th November, 2015, alleging that the return of awards by writers, artistes and others against "rising intolerance" was an act to defame the country.
Priyadarshan
Ashoke Pandit
Anupam Kher
Madhur Bhandarkar
Answer: 3
Name the National Cultural Festival organised by Ministry of Culture, Government of India at IGNCA, Janpath, New Delhi in November, 2015.
Rashtriya Utsav
National Cultural Festival
Rashtriya Jana Saskriti Utsav
Rashtriya Sanskriti Mahotsav
Answer: 4
Government of India on 6th November, 2015 decided to impose tax on all taxable services to fund the Swachh Bharat programme. What is the percent of tax?
1 per cent
4 per cent
5 per cent
1 per cent
Answer: 3
5.The Supreme Court-appointed Environment Pollution Control Authority (EPCA) decided on 4th November, 2015 that every truck which enters Delhi without paying the 'green tax' at toll booth, will be chased, apprehended and had to pay a fine of Rs.…. apart from the tax.
500/-
1000/-
2000/-
5000/-
Answer: 3
Name the India's nuclear-capable strategic ballistic missile test-fired from the Integrated Test Range at Abdul Kalam Island in the Odisha coast on 9th November, 2015.
Agni-II
Agni-IV
Agni-V
Agni-VI
Answer: 2
Amateur archaeologists Y. Ramakrishna Reddy and Lakshmi Kanta Reddy, have stumbled upon rock paintings at Gandikota Fort in Kadapa district in November, 2015. The paintings belong to which period?
Iron Age
Neolithic period
Mesolithic period
Chalcolithic period
Answer: 3
Name the ICC Chairman Who has been dethroned after the BCCI decided to remove him and nominate its recently-elected President Shashank Manohar as the chief of the world body.
Ravi Shastri
N Srinivasan
Gagan Khoda
Rajinder Hans
Answer: 2
Which of the following nation celebrates its Independence Day on 8th November , 2015?
China
Malaysia
Thailand
Cambodia
Answer: 4
Name the mobile app launched by CISF for troops on 8th November 2015.
e-Power
m-Power
e-Jawan
m-Jawan
Answer: 2
Happy reading!
TEAM CL