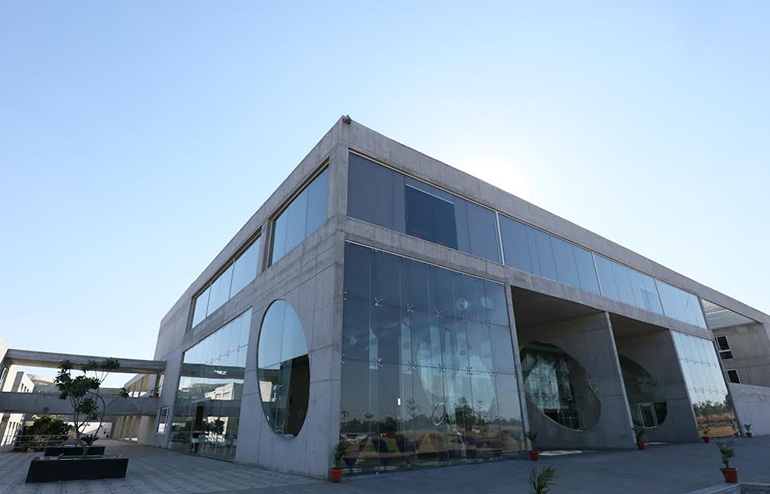 Business management stream has always been in the limelight, and therefore a popular choice for students who are looking to pursue post-graduation. With globalization many businesses have grown by leaps and bounds and has also led to opening of numerous employment opportunities. While there is no dearth of fresh management graduates but today, organisations are looking for that right combination of functional & behavioural skills and expect the B-Schools to make them industry ready accordingly.
Today, there are so many choices available when it comes to shortlisting a B-School but most students are not so clear about the key metrics they need to keep in mind while evaluating any option. Woxsen's foundation rests on the below 5 attributes, which has propelled the institute to Rank 4 in the Top Pvt. B-Schools category in South Region by BusinessWorldand All India Rank-11 by IIRF, Education Post.
Global Curriculum& Faculty
Woxsen School of Business flagship programs are the, two-year full time PGDM program, accredited by AICTE & NBA (Govt. of India) and the one-year full time PGPXP (Executive) Program, accredited by AICTE that are considered at par with the Ivy League institution programs across the world. In line with the latest trends in technology space, WSB has launched a new cutting-edge program in Business Analytics & Artificial Intelligence i.e. PGDM – BA. AI. ML.designed exclusively in partnership with the Business Leaders and benchmarking it against the Top Global Universities after reflecting on the current needs & the skillset gaps.
Aside, Faculty at Woxsen School of Business have been handpicked for their contemporary research, teaching, consulting experience.  Also, to give that much needed global connect, faculty from leading Schools & Universities such as Harvard, Nanyang Business School, Oxford, Mannheim Business School, LSE, UCLA – Anderson, Michigan – Ross, just to name a few, are invited to share their expertise and insights with the students.
Industry Readiness
Complex business situations demand global exposure and at Woxsen, our students undergo a capstone module – Global Immersion Programat Nanyang Technological University, Singapore (QS World University Rank 11)to help broaden their horizon. And, the PGPXP students can visit Nanyang Technological University or Mannheim Business School, Germany (FT Global Rank 27). These visits help the students to gain an appreciation towards global business challenges, understand the new ways of working & also learn about the new business models at play.
Further, a dedicated Career coach is assigned to each student, who mentors & helps them in their domain choices & align their career goals to their strengths. To deliver that much needed edge, students have to go through a regular grind of Group discussions, Case Solving sessions, presentations, Live projects and Skill Development workshopsround the year.
Industry Connect
At Woxsen, plethora of opportunities are created, where students are exposed to best in class industry practices & life-long learnings of the senior leaders through Industry Exposure Sessions like Woxsen Leadership Series, #Unicorn Calling, HR Conclave, My First Billion Series, Guest lectures, Industrial visits and more. Among some of the key milestones tracked, Woxsen takes pride in conducting 150+ industry interactions at the campusevery year.
Placements
Woxsen continues to excel at placements every year. Woxsen saw a robust placement this year with the leading Fortune 500 companies visiting Woxsen for fulfilling their talent needs. Besides the regular marquee recruiters, there was a slew of new companies on the placement roster this year. Woxsen students hit the 100% placements even before their graduation with the Highest Package of INR 15.5 LPA and Top 20 percentile Average Package of INR 11.6 LPA.
If you take a look at the placement report, you will notice that our students have got placed across various sectors like Consulting, IT & ITES, FMCG, Banking & Financial Services, Automobile, Manufacturing, Healthcareetc. There has been a slew of jobs from leading corporates like DELL, Deloitte, Divi's Labs, HDFC, Amazon, KPMG, Nuland Laboratories, Aditya Birla Group, Standard Chartered Bank, American Express & more…
Vibrant Campus Life
The 200-acre greenfield, fully residential state of the art campus has been built with a vision to deliver world class education. It is fully equipped with the best of amenities & facilities such as a Central Library with over 10,000 books, an Amphitheatre for hosting events and performances and recreational facilities such as a Swimming pool, Gymnasium, a host of Indoor & Outdoor Sports facilities.
The school has a very active Student Council which comprises of ten clubs of which six are functionally oriented clubs in the areas of Marketing, Finance, HR, Operations, Business Analytics, and the other four conduct events in general areas including Sports, Communication, Entrepreneurship and Culture. The Student body hosts several large-scale annual events such as a Cricket Tournament called Woxsen Premier League, a Football Tournament called Woxsen Football League and an annual Musical Festival called Rhapsody.
Admission Process at Woxsenis a well-defined 3 Step Process where admissions are offered based on the Composite Score comprising of:
1) A cut off in the Entrance Test Scores like CAT, XAT, NMAT and MAT.
2) A Psychometric Test, which helps in mapping the student's personality profile.
3) Shortlisted candidates appear for the final round of Personal Interview with the panel.
The attributes the student must focus on to do well at Woxsen School of Business are as follows:
Ability to build excellent domain knowledge
Analytical Ability
Excellent Communication Skills
Comfort with basic statistical and quantitative tools.
The decision of enrolling in a B-School is indeed a career defining moment which will impact both personal and professional life. Therefore, it is of utmost importance that you tread cautiously and understand the key attributes well, as you make a well informed choice.