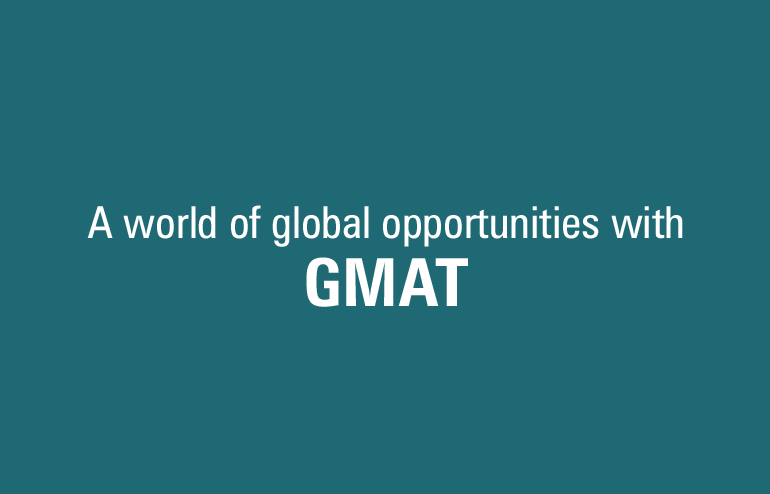 Why you should look at GMAT too, especially if you are a serious CAT taker (all the more if you have work-ex!)
Many a CAT-taker usually thinks that doing an MBA from overseas is prohibitively expensive. A few do think about a second MBA from an IVY League institution after a few years of experience post MBA in India. Having observed the management education space since 1991, and having mentored MBA aspirants who aimed at B-Schools in India and also those who only wanted to study abroad, I thought I should write a brief note to help every aspirant of MBA.
In Indian context, any entrance exam is competition intensive. Of course, the one who is purposeful, determined and disciplined does manage to compel the IIMs to send across the call letter by virtue of his or her performance in CAT and Interview stage. Still there are many who are very good, but make do with an MBA from not so good an institution. From that perspective, every CAT taker should look at GMAT seriously.
Why study abroad? Does it make any sense? YES, IT DOES…
Choice of Courses – The best of the universities abroad offer such a varied choice of flexible programmes wherein you can pick and choose courses / electives not limited to the courses that B-School offers. One can pick courses from varied departments of the university based on your interests.
Highly ranked Universities – Most of the universities that you hear about, or will aspire to be in and where many Indian students regularly get admitted to are definitely ranked far higher than any of the Indian Institutions in the global rankings.
Exposure to global business environment – Most of these universities are trend-setters in management education – approach and pedagogy; many faculty are bolstered by the sharp intellect that have contributed immensely to paradigm shifts in doing business. The institution-industry engagement hence is of very high standard, there by offering exposure to world class business environment.
All round development – Most of the programmes attract students from varied countries, cultures and work experiences; the opportunity such an intense and engaging programme offers is beyond compare from the perspective of personal development.
Home to the Best Companies – The best of the business schools are in the vicinity of largest business centres of the world that is home for the best of the Companies. Actually many of these universities have been the craddle for many of these world class companies when they were conceived and nurtured to the extent of the universities even having stakes in these companies.
Global Citizen – Most of the graduates, if keen, are gobbled by the corporates to be posted in countries across the world. A few years in any of these corporate makes you a global citizen, looking at every challenge in so many perspectives.
Higher Return on Investment – Though the fees that you pay for these programmes are multiple of what you invest for programmes in India, including IIMs, the kind of salaries that are offered to the graduates from these institutions are so huge that a graduate from an Indian institution will take a decade or so to match the salaries offered even at the campus placements of the overseas schools. Your returns are in the range of 3 to 4 multiples of your investment of the programme.
Here is a dekko of Global MBA, Fees Vs Avg Salary– (2014)
| | | | | |
| --- | --- | --- | --- | --- |
| B.School | Intake | Fees | Avg Salary | Duration (mths) |
| Harvard, US | Sept/Jan/April | USD 53500 | USD 187223 | 24 |
| Stanford, US | Oct/Jan/April | USD 57300 | USD 194645 | 24 |
| LBS, UK | Oct/Jan/April | GBP 57500 | GBP 160988 | 15-21 |
| INSEAD, Fr | Oct/Dec/March | Euro 59500 | Euro 153992 | 10 |
Kindly check the WHYGMAT.ppt on the SIS for greater details on fees at top B-schools of the world and the average salary offered at the placements of these institutions.
Advantage GMAT – Why should you take GMAT anyways?
B-Schools across the globe look for GMAT (Graduate Management Admission Test) scores for admission for their programs.
When you are preparing for CAT, anyways you have more or less prepared for everything that GMAT tests you on.
As your GMAT score is valid for 5 years (the best of the colleges prefer score within last three years) it makes sense to prepare and take GMAT as you take CAT. You may use the scores now or in 3-4 years time if you look towards global career!
Also scoring 720+ in GMAT is easier for any hardworking CAT-Taker than scoring a 95%ile in CAT. This score is good enough to open the doors of the best of the world class business schools;
Of course many of the top Indian business schools also accept GMAT scores for admissions. So GMAT offers an alternate route to enter even a few of the Indian B-Schools.
Which are the Indian B-Schools that accept GMAT scores?
As per the information published on mba.com on 10th Dec, 2014, the following are a few of the top B-schools in India worth mentioning that accept GMAT scores. For more schools, visit mba.com of GMAC that is the conducting body of GMAT.
Apart from IIMs – Ahmedabad, Bangalore, Calcutta, Lucknow, Indore, Kozhikode, Ranchi, Rohtak, Shillong, Trichy, Udaipur, Raipur
XLRI, Jamshedpur
FMS, Delhi
IIT-DMS, Delhi, Kanpur, Bombay, Madras, Roorkee & Kharagpur
ISB, Hyderabad and Mohali
IIFT, Delhi & Kolkata
S.P Jain Institute of Management and Research, Mumbai
Great Lakes Institute of Management, Chennai
IMT, Ghaziabad, Hyderabad, Nagpur and Dubai
MDI, Gurgaon
School of Management, NMIMS, Mumbai
K.J.Somaiya Institute of Management Studies & Research, Mumbai
TAPMI, Manipal
XIM, Bhubaneswar
Goa Institute of Management, Goa
MICA, Ahmedabad
TISS, Mumbai
IMI, New Delhi, Bhubaneswar and Kolkata
NIFT, Delhi
Entrepreneurship Development Institute of India, Gujarat
For more details kindly visit the website of the B-school you are keen on.
Specifics about GMAT Exam?
GMAT exam can be given more than once. However it is not recommended more than 2 times.
Eligibility – Working Professionals, Graduates and undergraduates.
The test is conducted throughout the year, except on Sundays and National Holidays.
Passport is mandatory to take GMAT exam.
Ideal time to take GMAT is minimum one year prior to intake dates (if you are looking at MBA overseas); If you are looking at admissions in Indian B-Schools then take it by December of the previous year (look for more details on the website of the relevant B-School)
Score –
a) GMAT score is on 800. (Max)
b) Minimum score – 200.
Scoring Pattern – The score happens on 10 point increment
GMAT good scores considered to be 680 +
Average CL student scores – 715; Many have scored 750+ too.
What are the programs overseas that one can apply after taking GMAT?
MIM (Masters In Management) : Work-ex 0-2 yrs – mostly in Europe, though a few B.Schools in the US also have started
Global MBA : Work-ex 2-7 yrs
EMBA (executive MBA) / Sloan Program : Work-ed >8 yrs
Programmes that offer Pre-final college students a guaranteed seat in a future class
ISB – Young Leaders Program
HBS – 2+2 program
YALE – Silver Scholars Program
STANFORD GSB – College Seniors program
IESE Spain – Young Talent Program
I shall wind up this article by simply advising every CAT taker, unless you are in the 98%ile bracket in mocks, to look at GMAT also as a potential route to get into your dream B-School. Those with work-ex, you should take GMAT and even target the overseas B-schools.
Kindly check the WHYGMAT.ppt in your SIS that has greater details. Get in touch with the counselor at your Career Launcher centre to know about all details of the GMAT Bridge and GRE Bridge programmes for CL CAT Takers. Write to sreeni@careerlauncher.com for more information.
Conquer self, conquer the world.
Best Wishes,
Sreeni