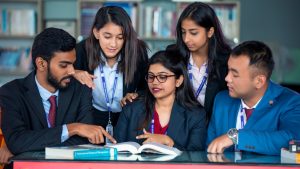 GDPI is a test conducted to assess the basic personality of a candidate's leadership skills, communication and problem-solving skills that are essential to become a qualified manager.
Group discussion (GD) and Personal Interview (PI) are an integral part of the MBA/PGDM admission process. The most important thing is to know what topic will be discussed in the GD and PI rounds. In some cases, the interviewer may not tell you beforehand so that you would not be able to prepare in advance. However, if given an option, choose to know the topic beforehand so that you can think about it in advance and come up with questions to ask your interviewer. In this article, let us look at what these tests are and how to best prepare for them.
The candidates who have qualify national level entrance tests or b school specific entrance tests are generally required to appear for Group Discussion (GD) and Personal Interview (PI) rounds of most of the top business schools. It is often noticed that most candidates are nervous to face GD and PI rounds. However, there are ways to make it easier for yourself and increase your chances of getting selected if you plan and prepare yourself with a clear mindset well ahead of time.
Group Discussion (GD):
The most common type of discussion test is the group discussion (GD). The usual format of a GD involves around 6-8 people sitting in a room and discussing on a particular topic for about 20 minutes to an hour. This can either be pre-decided by the institute or decided upon during the test itself depending on available time. After the allotted time is over, the group members take turns to speak for 2-3 minutes each on what they discussed and their views on the topic. The participants are then evaluated based on their participation in the discussion as well as their stance on the issue at hand.
B-Schools look at Group discussion as a measure to find your ability to interact with others and work as a team member in a corporate environment. It also gives an idea of how you would fit into a team-setting where there are multiple responsibilities that need to be shared within members.
The most important thing during these rounds is to be on time for the test, with all your documents in order. This will reflect well upon you during evaluation as a person of standard and discipline. Another point of reminder is to make sure that you are familiar with the topic that has been given so that you can participate actively in the discussion. One could read up on any related articles or books to help formulate your views more clearly. Also, practicing public speaking with focus on clarity in delivery would all help in your performances effectively.
Personal Interview (PI):
The personal interview is generally a designed framework of questions that are asked to a candidate to know the better. Being you, being true and honest are the expectations in this round which might sound simple, however it is not. The true design is to understand your identity and presence of mind.
The questions that are put at a candidate is firstly to know the backgrounds that as personal and family background, educational and financial background, knowledge and skill-sets that the candidate possesses, ability to handle different scenario, etc. The questions narrow as you proceed with a clear intention to know the candidate well. The objective here is to understand as well as to make understand the need to know one-self whether he or she is able to undergo a real-time interview and deliver one-self truly and truthfully.
In the CAT GD round and in the GD rounds conducted widely by prominent business schools in India, the aspirants who are shortlisted gets divided into 8-10 different groups. A topic will be allotted to them, which needs to be discussed in a given time. The panel that does the interview monitors each candidates' performance secretly. This is an important round as all the aspirants are judged purely on the basis of their skills that are communication, leadership, attitude and aptitude, decisiveness and teamwork.
Added to this, in CAT PI round, all the aspirants are judged on the basis of their verbal communication and also their presence of mind. The interviewers evaluate how smoothly the aspirants present their thoughts to convince the experts in the interview panel. Hence, the aspirants need to follow effective method(s) towards GD PI preparation for CAT.
The candidates would face questions such as
– Tell us about yourself.
– What are your strengths and weakness?
– Why do you want to study MBA?
– Why do we have to select you for our institute?
To get admitted into a quality B-School is quite a challenge nowadays due to the complexity involved in the process of admissions. Earlier were the days when getting admitted into a business school was easier and one need not worry about not getting admissions. However and today, due to the competitiveness and the standards involved in ranking and accreditation, selecting a good business school by itself is a challenge. To decide which business school to apply for or what all business schools to keep in your top choices is quite a conundrum faced by every candidate who prefers to go through a PGDM or MBA programme.
Top business schools prefer conducting their own entrance tests, after which further rounds are conducted. Clearing a business school entrance test could be attained through consistent effort in preparation and dedication. Candidates are short-listed on the basis of their scores in the entrance test initially followed by the candidate being called for the group discussion and personal interview round. After this, most business schools follow the seat matrix method and the seats are allotted to the candidates on merit basis in all the screening methods – the entrance test, the group discussion and the personal interview.
As a leading business school, ISBR's admission and selection process is robust and it aims to assess various skill-sets of the candidates in order to ensure that they get the most out of the masters in business management programme. ISBR considers entrance tests such as CAT, XAT, MAT, NMAT and CMAT for the GDPI rounds.
Students who have not taken any of these tests or do not have the required cut off score will be asked to appear for ISBR's very own aptitude test. This is primarily to encourage the interest of the candidate and to give them a chance to prove themselves. Additionally, none of ISBR's tests are designed to eliminate the candidates but to make them get to know themselves well. The selection process at ISBR is as follows,
II. ISBR Aptitude test – online and remotely proctored (Duration: 60 minutes)
a. Quantitative Aptitude
b. Logical Reasoning
c.  Linguistic Skills
d. Essay Writing
II. Written Ability Test – online and remotely proctored (Duration: 30 minutes)
III. Micro Presentation
IV. Personal Interview
To know more about the MBA and PGDM programs offered by ISBR, visit www.isbr.in