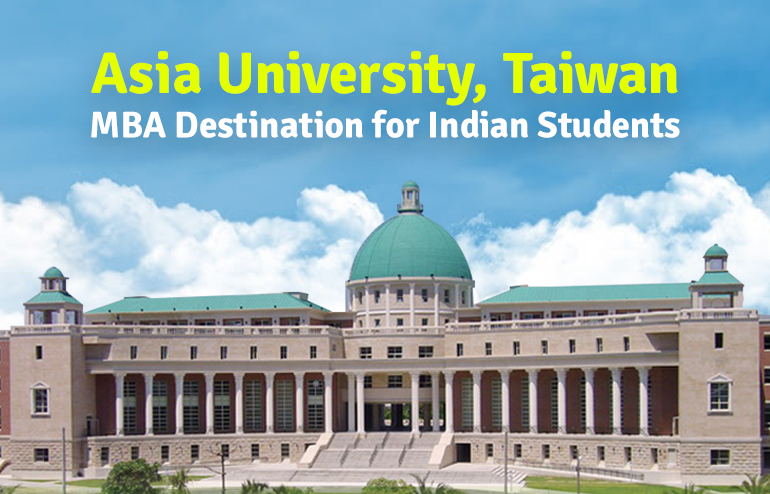 Have you always dreamt of doing your MBA from foreign universities, but never mustered the courage to even apply due to your financial situation?
Has money ever played a decisive role in keeping you from attaining the degree that you always wanted?
Has the lack of insightful information stopped you from attaining your dreams?
Have you, in your wildest dreams, thought that you can do your MBA from a foreign country at a cost much lower than Top Indian Business Schools?
If you have, then you have landed in the right place. Read this blog carefully to know all about the opportunities in the MBA World that you never even knew existed in the first place.
Think MBA from abroad, think Taiwan:
Certain Universities in Taiwan that we have mentioned on our website have made its mark internationally by taking the AACSB Certification home (Only 8 Institutes in India are AACSB certified, and not even IIM Ahmedabad and IIM Bangalore are AACSB Certified yet!!!!). To know more about these Premier Universities, you can click here. You must be wondering what an AACSB Certification is. To put it simply, it is a certification that is exclusively given to the best pedigree of universities around the world. It is one of the world's most selective and rigorous types of evaluation for business schools. Read more about this accreditation here.
MBA degree can be done in under 5 Lacs from Taiwan. What's stopping you?
We have established in our previous post that Taiwan is a great study destination. What puts the icing on the cake is the affordability of getting internationally certified, and that too from globally acknowledged universities in Taiwan. It is an obvious fact that not each and every single one of you will get into Tier 1 Indian Business Schools in India. Other less reputed institutes in India are just not worth the time or the effort, because quite frankly, MBA is an expensive affair, so why even bother doing your MBA from infamous institutes in India that won't even give you a satisfactory paycheck when you graduate, when instead, you can invest only about 5 Lacs on Universities in Taiwan, which, are globally acknowledged as competent authorities in the business world?
Fee Structure of MBA from Premier Institutes in Taiwan:
The fee structure of pursuing an MBA from Universities in Taiwan may vary from university to university. The Taiwan Universities that we have listed on our website offer MBA Programs that cost approximately 5 Lacs only. Spending a mere 5 Lacs on your education, specially a business management degree like MBA from internationally recognized universities in Taiwan is nothing in comparison to spending a heart shattering 21-30 Lacs if you were to do your MBA from Tier 1 B-Schools in India. Moreover, the return on investment on doing your MBA is higher in Taiwan Universities than it is in Tier 1 Indian B-Schools as they both have the same placement package of 21-30 Lacs/annum, with MBA from Taiwan Universities costing only 5 Lacs vis-à-vis Top Indian B-Schools costing about 21-30 Lacs.
Scholarship Opportunities for MBA from Premier Institutes in Taiwan:
When it comes to availing scholarships, there are certain options that are made available to international students. This again, may differ from University to University. But what's exciting is the fact that scholarship or no scholarship, getting your MBA from reputed institutes abroad is now that much more achievable and pocket friendly!! For us, that's what makes it all worth it. So stop thinking, and check out these fantastic universities now.
Conclusion:
Wrapping up, Taiwan seems like as good a university as any for pursuing your MBA degree. Not only does it give you a higher return on investment, but it also brings you the satisfaction of getting educated abroad! You will live in a new country and experience a new culture while simultaneously getting your degree at a cost that does not burn a hole in your pocket. Come to think of it. Isn't this the life that you always wanted?!