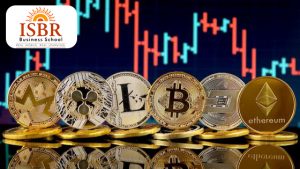 In recent years, India has emerged as one of the most active cryptocurrency markets. According to several research studies, India has more than 60% of the world's crypto owners and ranks second in adoption rates. Since 2014, over 15 million retail investors in India have included cryptocurrency in their portfolios. With nearly 230 start-ups, the country as well stands to benefit from a solid organizational existence in this space.
Cryptocurrencies have been in the mainstream since 2009, but the last few years have seen unprecedented growth in this asset class. Digital currencies are indeed very popular among younger investors who have a higher risk tolerance and are eager to obtain adequate financial education in order to capitalize on the advantages of the ever-evolving landscape of digital finance. According to The Economic Times, approximately 20 million Indians trade in cryptocurrency.
Any form of virtual or digital currency that uses cryptography to safeguard transactions is referred to as a cryptocurrency. A virtual payment system known as cryptocurrency doesn't quite rely on banks to verify transactions. It is a peer-to-peer encrypted payment system that allows anyone, in any way to make and receive payments. Cryptocurrency payments exist solely as electronic entries to an online database describing specific transactions, rather than as physical money carried around and exchanged in the real world.
Bitcoin (BTC) was the first cryptocurrency, and it is still the most popular of all digital currencies in terms of value and spread. The majority of curiosity in cryptocurrencies is speculative, with speculators occasionally driving prices skyward.
A glimpse on cryptocurrency 2022
Cryptocurrencies fell by more than 60% in 2022 due to global scams and regulatory barriers.
Miners are defaulting on machine-backed lenders as a consequence of low Cryptocurrency prices and rising energy costs.
Despite these bleak developments, a few financial titans believe cryptocurrency would represent the next generation of markets.
As the crypto market's volatility rises and shareholders continue to flee toxic investments, the future of claimed cryptocurrencies appears grim.
Following the 2021 bull-run, cryptocurrencies experienced a regulation in the first month of 2022, with Bitcoin (BTC) and Ethereum (ETH) dropping around 20% and 31%, respectively. Now, cryptocurrency prices have plummeted, with Bitcoin floating around $17,000, bottoming more than 60% since the start of 2022.
However, there was a slight improvement in October with an increase of about 1.76 percent, the first climb since July 2022 despite being below the peak in March 2022.
India on the verge of crypto market
According to Chainalysis, a firm that specializes in block chain analysis, (Block chains were indeed known primarily for their pivotal role in cryptocurrency systems, for keeping a safe and decentralized record of transactions, as it ensures the adherence and confidentiality of documentation of data and generates trust without the necessity of a trusted third party.) the adoption of cryptocurrencies worldwide increased by 880% in 2021. India came in second place in the ranking, just behind Vietnam, with a score of 0.37. The potential of the global cryptocurrency market is huge, and it is expanding quickly. Additionally, it seems to be a lucrative sector for India.
Given the vibrant local community and proactive government of India, the future of cryptocurrencies there seeming quite promising.  The Indian government is keenly emerging a Web 3.0 policy. It must participate in the global strategy development process and modify its tactics to fit this fast-paced world if it wants to be a major player in the global Web 3 economy. Up until that moment, Indian web 3.0 firms ought to have little trouble operating in a secure environment.
For an assortment of reasons, the Indian government and central bank have remained skeptical of the cryptocurrency market. One such reason was the potential role of crypto-assets in facilitating money laundering and terrorist activities. Cybercrime has put the system to be tested, because the crypto industry is virtual, one might expect it to be susceptible to hacking and scamming. Although technological advancement has improved security features, the simulated environment is not invulnerable to exploitation.
Two proposals made in the Union Budget 2022–23 by Finance Minister Nirmala Sitharaman had a big impact on the Indian crypto asset market. The Digital Rupee, relying on block chain technology, was launched in order to lessen the nation's reliance on traditional currency. On November 1, the Reserve Bank of India has begun a wholesale market trial program.
However, India's strict tax laws imposed on cryptocurrency-based incomes have caused the most harm.
Introduction of e-Rupee
The RBI's preferred cryptocurrency is digital rupees. It is considered to be safer than privatized coinage because the CDBC (Central Bank Digital Currency) is an electronic version of a sovereign currency. The government's 30% levy on virtual assets wouldn't stop people from trading cryptocurrencies. The groundwork has been laid for cryptocurrencies to be recognised as an asset class.
Virtual currencies have the ability to give India's youth financial freedom by providing lower transaction fees than conventional remittance services, allowing them to obtain credit as well as other banking services despite their wealth or social background.
Because of their lack of trust in banks and financial institutions, their high-risk tolerance, and their ability to obtain information online, this is a hot sector for millennials and Gen Z. Millennials in India's rural and semi-urban cities are quickly adopting cryptocurrency. 66% of all users are still below the age of 35, indicating that cryptocurrency is gaining popularity among the young.
Future of Cryptocurrency 
From the perspective of a developing country, such as India, experts appear to think that cryptocurrencies could stand to gain its financial landscape. Although financial uncertainty persists in the nation, market behavior suggests that the Indian cryptocurrency market has a bright future.
In a single year, the Indian cryptocurrency market grew by 641%. The global cryptocurrency industry holds a lot of promise and is growing quickly. It appears to be an exciting industry for India as well.
Considering the speed at which the crypto financial system is growing, the Indian government's acceptance of the digital currency system is a wise move. It would be difficult for the government to create a system that allows cryptocurrencies to operate without losing their intended purpose.
However, the likelihood of digital currencies substituting fiat money is low. Instead, cryptocurrencies and fiat money may coexist peacefully in the future. It would enable individuals and businesses to employ any cash they choose for a variety of purposes.
Although 2023 may not be as gloomy as 2022, it won't be at its prime like 2021. The future of cryptocurrency appears bright in the next five years, and India is on verge of dominating the crypto market. However, the year would be eventful as the RBI expanded its pilot programs to grant the e-rupee a firm footing.
In a nutshell, one of the key elements in any business is financial management. So, one must possess a strong understanding of financial administration in order to establish or merely run a fruitful business. Therefore, understanding financial management is vital for everyone, as it involves financial endeavors inside a company or institution that are organized, managed, and planned strategically.
Top B-schools having financial management as a specialization enables future leaders by means of providing vast knowledge and objectives that leaves an imprint of reputable employability. Financial Management is the oldest discipline in the world, so it is indeed an excellent course for those who enjoy data analysis and working along with the core principles of statistics.