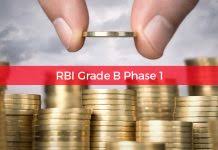 Over the past few years, the role of an RBI Grade B Officer is gaining immense popularity among young people. Candidates from varied fields ranging from Finance to Engineering, including MBA aspirants, are finding themselves in the same ring for a handful of posts. As per a report, approximately 4% candidates make it to the phase-II of RBI Grade B exam.
What makes RBI such a bright career option?
In a recent survey, RBI was voted one of the best place to work in India. Here are some reasons:
Impact
An RBI Grade B officer directly impacts the life of every Indian. Officers need to work closely and effectively, keeping inflation under check. RBI officers ensure an acceptable supply of liquidity for the productive sectors of the market. In essence, the RBI Grade B Officer's job is directly focused on ensuring smooth functioning of financial markets.
Salary
Surely, a post of such a high responsibility comes with plenty of perks. One major reason for such hype around the RBI Grade B Officer's Exam is the salary package. Total cost to company pay package accounts to be around Rs. 18-20 lacs in metro cities like Mumbai, Delhi etc. The basic salary of an RBI Grade B officer is Rs. 35,150 pm. The gross total amounts to approximately Rs. 67,000 pm. Here are some of the perks:
Along with this hefty salary, you also benefit from a number of perks and allowances. Read below to know more about RBI Grade B Officer's Perks & Allowances.
After the appointment, you may reside in RBI Residence. A 2BHK is usually offered in the heart of the city.
If you drive a car, you can also avail fuel allowance of 150 lts.
Your Annual Medical Allowance shall be Rs. 4,500 upon declaration.
Your monthly Maid Allowance shall be Rs. 3000.
RBI also provides Food/Grocery Sodexo Coupons to its employees worth 2000/-
You shall also be eligible for LTC/LFC Tour Allowance ~ every 2 years along with dependent Family Members.
Also, loans are cheaper for employees of the RBI. They are provided at significantly lesser interest rates!
Career
The career prospects in RBI are extensive. In the RBI hierarchy alone, there are about 7-8 levels above the Grade B officer. The highest position an RBI Grade B officer can rise to is Deputy Governor.  With the right career path, the government can appoint Deputy Governors as the Governor of RBI! There is a strong chance of getting acquainted with some of the most prestigious organizations of the world such as World Bank, IMF etc. Moreover, investment banks are known to offer huge benefits with hefty checks for retired RBI grade B officers.
Further Opportunities
In the RBI, Officers can get several opportunities for further education in any university across the world. There are many scholarships provided for officers which give full/partial funding for future studies.
Post working in the RBI, many other career paths are open like the opportunity to work with World Bank, IMF, Bank of International Settlements, Basel, Switzerland, and Ministry of Finance, GoI.
Platform for becoming a Board of Director in top-notch commercial banks.
Multiple post-RBI Consulting opportunities in Investment Banking
Get Going Now!
To sum up, the RBI Grade B job is one of the best banking jobs in the country. But how do you prepare for it with work and a busy weekly schedule?
All you really need are a few hours per week and you can prepare at home or a place of your convenience, anytime. How? With Career Launcher's RBI Grade B Online Classes you get 104 + live sessions that you can watch any number of times, along with a series of mock tests for Phase 1 and 2. The mock tests are coupled with detailed analysis to help you improve on your weak sections with every test. So go ahead, check it out!
If you have any questions about RBI Grade B Officer as a Career, ask us in the comments below and we'll get back to you asap.
All the best!