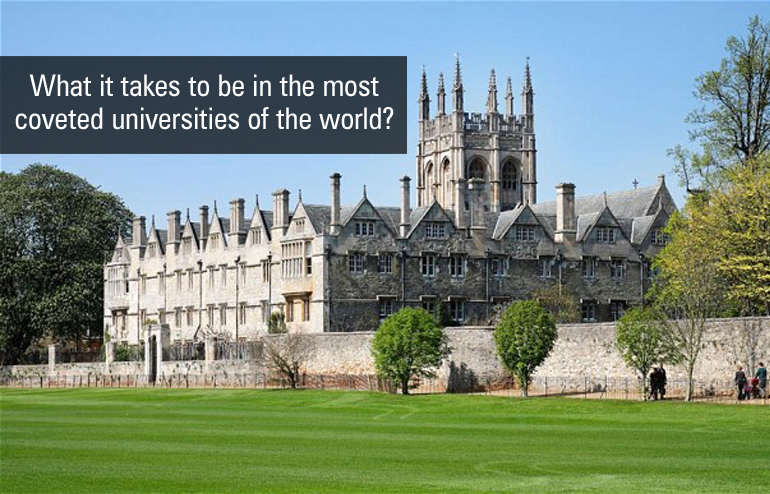 Is foreign education an investment or an expense? As a law student and then even as a lawyer, I have often pondered over this question many a times. I have also sought advice from those who have had one and from those who have rejected the utility of one and then again from those who aspire to have one. Coming from a premier law school in India (NLIU, Bhopal) gave me an opportunity of knowing and being able to approach so many others who had, previously, pursued higher education outside India or had decided against it. The more experienced people I spoke to, the more perspectives I learnt.
The conclusion in all these past years of questioning has been the same. It being that there is no one conclusion. This can affirmatively be considered an apt case for 'no one size fits all'. While those who have gone ahead for their post graduate studies outside the country believe in its utility in more ways than one, those who have decided against this trend can list its futility in more ways than one. The ones who aspire for it are the ones who are reading this article!
I write as a person somewhere in between. I have aspired for it in the past, I am about to embark on this journey in the future, and I am still some way to draw my own conclusion at present.
Briefly, my thought-timeline regarding this decision can be broken down thus:
First year – The prospect of undertaking education in a foreign land allured me
Second, third and fourth year – Worked towards building a comprehensive curriculum vitae
Final year – Began considering the 'what next?' step
Eventually, placement season began and got a job offer which I accepted, thereafter beginning my phase of a working legal professional. Subsequently, that desire of working towards attaining that foreign education was, if not forgotten, put on the back burner.
Today – I am an offer-holder of a post-graduate course in Law and Finance at the University of Oxford.
My first and the most important task was to shortlist the course of my choice. My course is being offered by the Faculty of Law in conjunction with the Said Business School at the University of Oxford. I was keen on this course because it offered me an opportunity to experience an inter-disciplinary learning while not deviating from my core area of law. Another draw was that, it was a bespoke course designed for lawyers and being offered by a Business School. These sorts of combinations are hard to find within the Indian institutes and even other prestigious educational institutions outside India.
The next task was to present my reasons in a convincing manner. My professional background comprised of being an in-house legal counsel and then litigation. I did not possess prior experience in finance. I believe that having some prior experience might count, but having a future vision counts more. And that is what I presented.
Another application requirement is the 'Letters of Recommendations'. There came the problem of plenty. I was fortunate to have a few people from the fraternity happy to recommend me for the course. But it was important to decide the skill set I wanted to be highlighted. That depended on the level of interaction I had with each of the people, I sought recommendation from, the kind of interaction and the type of work I was involved in at the time of interaction.
Right from my final year and quite often during my time as a working professional, I was encouraged by my family to apply for higher studies, but I kept putting it off. This year, I finally did. My reasons for not doing it earlier were – procrastination, fear of not getting admission into my dream university (Oxford it had always been) and the investment involved.
Through the years of not even applying (for reasons stated above) to applying and now, being on the verge of commencing the course, there has been a great learning experience.
Foremost lesson learnt: Never defer a dream. There is never a good time for tough decisions. But you need to pick courage and take those decisions.
Second lesson: Every career decision involves risk in two ways – the risk of doing it and the risk of not doing it. Either way we take risks in our careers, better to opt for a progressive risk over a stagnant risk!
Third lesson: While under-estimating our capabilities, aim should be to prove our belief wrong. While over-estimating our capabilities, aim should be to prove that belief right! But to turn the estimate into an accurate account, attempt needs to be made practically and not theoretically.
Final lesson: The regret of 'not having tried' is a bigger regret than 'I could have done it better'.
The lessons that were learnt or affirmed during this process of application and selection have been the biggest takeaways for me. I look to expand my worldview and experience based on them.
As they say, 'it is not what opportunities you get but what you make of them that really matters'.
Opting to take this risk of studying outside my comfort zone in a different jurisdiction, to invest another year in formal education, to reduce one year from professional experience are minor matters in comparison to what I want to gain from this experience.
While there are no prescribed outcomes and no prescribed rules; what gives me the utmost satisfaction is that this decision is truly mine and that gives me the push to make it worth.
While the city of dreaming spires beckons, it is time to focus on the next item on the 'I dream to do' list!
Let me get started and in a few weeks, I shall write about life at Oxford!
Contributed by: Kritika Aggarwal, NLIU Bhopal alumni pursuing  Law and Finance at the University of Oxford