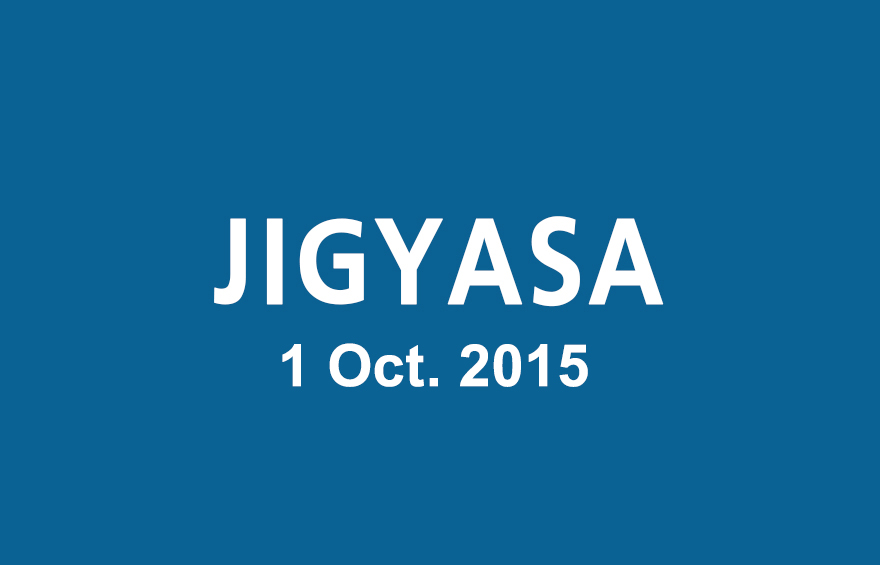 Dear Aspirants,
Here is the JIGYASA: Daily Current Affairs Quiz of November 16,2015 for you!!
1.Which Indian Bollywood veteran actor has passed away in London, England on 16 November 2015?
1)Manoj Kumar
2) Kartik Murty
3) Saeed Jaffrey
4) Hamid Jaffrey
Answer: 3
2.Recently scientists of which country have developed the world's first 'porous' liquid that can potentially be used to capture harmful carbon emissions to prevent them from entering the Earth's atmosphere?
1) USA
2) Germany
3) UK
4) Canada
Answer: 3
3.In November 2015 which among the following has been granted the sponsorship to sponsor IPTL for 3 years ?
1) Jet Airways
2) Lufthansa
3) Qatar Airways
4) British Airways
Answer: 3
In November 2015 which bank has launched student GIC programme for students?
1) ICICI Bank Canada
2) HDFC Bank India
3) ICICI Bank China
4) Yes Bank
Answer:1
5.Recently in November 2015, the World Bank signed $250 million deal to upgrade highways of which among the following Asian Country?
1) Pakistan
2) Afghanistan
3) Iran
4) Iraq
Answer: 2
6.Recently which among the following third-largest oil producer of the Organisation for Economic Co-operation and Development submitted a request to join International Energy Agency in November 2015?
1) Peru
2) Bolivia
3) Argentina
4) Mexico
Answer: 4
7.Recently in November 2015 World leaders have vowed to seek a comprehensive climate deal at an upcoming UN conference. The conference is to be held in:
1) London
2) Paris
3) Turkey
4) Bonn
Answer: 2
Recently under Atal Mission for Rejuventation and Urban Transformation (AMRUT) action plans for the year 2015-16 .How many cities to invest over Rs 5700 crore in water, sewerage system?
1) 45
2) 50
3) 81
4) 94
Answer: 3
9.Which among the following country is to be the first country to buy Australian uranium without being a signatory to the Nuclear Non-proliferation Treaty in November 2015?
1) Pakistan
2) India
3) Bangladesh
4) Canada
Answer: 2
10.Who among the following has been appointed as India's next Permanent Representative to UN in November 2015?
1) Syed Akbaruddin
2) Vikas Swarup
3) Anand Kataria
4) Alok Ranjan Jha
Answer: 1
Happy Reading!
TEAM CL