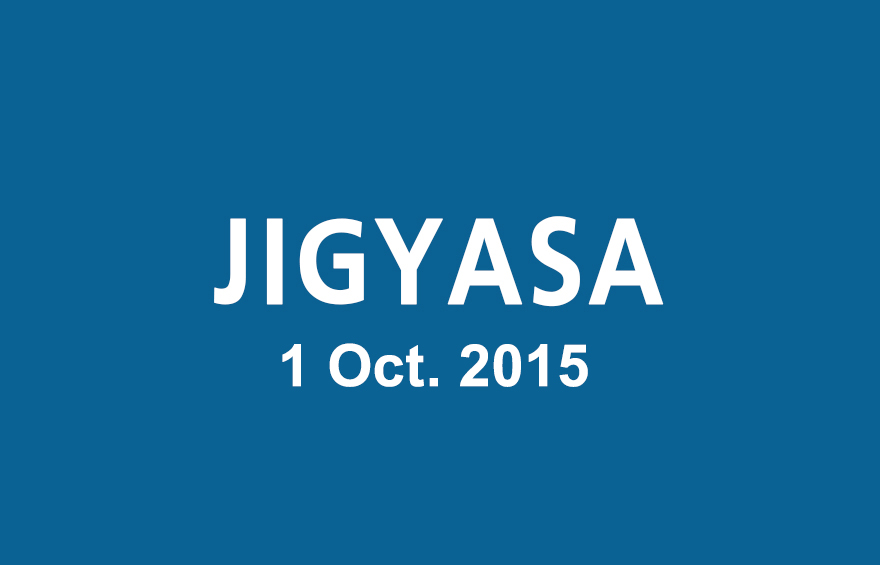 Dear Aspirants,
Here is the JIGYASA: Daily Current Affairs Quiz of January28, 2016 for you!
Which of the following countries has overtaken Thailand as the world's largest rice exporter in 2015?
India
China
Japan
Vietnam
Answer: 1
Who among the following has been appointed as Uttar Pradesh Lokayukta by the Supreme Court on 28th January, 2016?
Ranjan Gogoi
Sanjay Mishra
Virendra Singh
Vijendra Singh
Answer: 2
The index issued by the Transparency International reported one of the following countries has tops 2015 global corruption index. Identify the country.
Sweden
Finland
Denmark
New Zealand
Answer: 3
With which of the following states the Indian Railways on 27th January, 2016 entered into two separate agreements for the formation of joint venture companies (JVCs) with state governments.
Karnataka and Kerala
Tamil Nadu and Kerala
Kerala and Andhra Pradesh
Tamil Nadu and Karnataka
Answer: 3
Around 165,000 students in 1,000 schools across India will benefit from CLIx, launched by Tata Trusts on 27th January, 2016, Tata Institute of Social Sciences and Massachusetts Institute of Technology. CLIx stands for…
Connected Learning Classes
Connected Learning System
Connected Learning Institute
Connected Learning Initiative
Answer: 4
US-based Cognizant on 27th January, 2016 has acquired, a global consulting and technology services company for an undisclosed amount. Name the company.
KBACE Technologies
Getronics Technologies
Capgemini Technologies
Science Applications International Corporation
Answer: 1
Kellton Tech, a Hyderabad-headquartered firm with development centres in the country and the US, has acquired a Houston-based enterprise, cloud and analytics services provider in January, 2016. Name the company.
Cloud Expo
3Leaf Systems
Iland Enterprise
Bokanyi Consulting
Answer: 4
IT major HCL Technologies Ltd on 27th January, 2016 announced acquisition of one of the UK based company for £8 million (approx Rs 78 crore). Identify the company.
Palace Software
TatvaSoft UK Ltd
Point to Point Ltd
McLaren Technology Group
Answer: 3
Which of the following ace Indian shooter secured an Olympic quota for the country women's 10-meter air pistol event at the Asia Olympic Qualifier on 27th January, 2016?
Heena Sidhu
Sushma Rana
Anjali Bhagwat
Apurvi Chandela
Answer: 1
The Centre on 27th January, 2016 launched an exclusive disabled friendly National Job Portal for persons with disabilities. Identify the portal from the given options..
abilityjobs.gov.in
specialjobs.gov.in
divyangjobs.gov.in
disabilityjobs.gov.in
Answer: 4
Happy learning!
TEAM CL