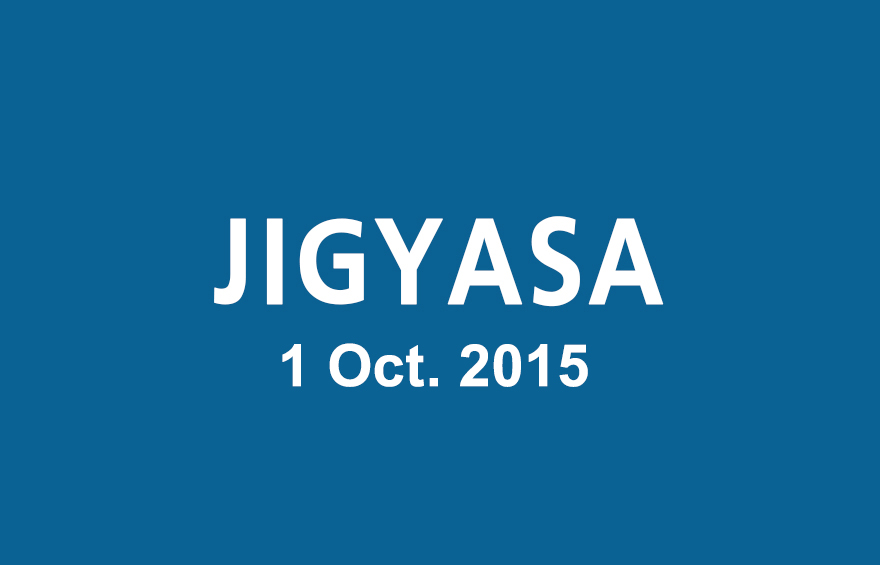 Dear Aspirants,
Here is the JIGYASA: Daily Current Affairs Quiz of January12, 2016 for you.
Which of the following folk dance form of Himachal Pradesh has made a world record by entering the Guinness Book of World Records as the largest folk dance in the world in January, 2016?
The Dandras
The Ghurehi
The Kullu Natti
The Thoda dance
Answer:3
A new social security agreement signed between India and Australia has come into operation in January, 2016 enabling people of both nations to avail…. benefits in each other's country.
Retirement
Employment
Visa Services
Higher Education
Answer:1
Who among the following authors have been honoured with Harikrishna Devsare Baalsahitya Award 2015?
Ashok Vajpeyi
Balkrishna Garg
Baldeo Bhai Sharma
Vishwanath Prasad Tiwari
Answer:2
Which of the following states has become the first State in the country to introduce compulsory gender education at the graduate level in January, 2016?
Kerala
Odisha
Telangana
Andhra Pradesh
Answer:3
Which of the following films has been adjudged as best Picture in the Golden Globe Awards 2016?
Carol
Steve Jobs
The Big Short
The Revenant
Answer: 4
RINL, the corporate entity of Visakhapatnam Steel Plant inked an MoU in January, 2016 with one of the following state government which envisages investment of around Rs. 38,500 crore to take up various projects at Visakhapatnam. Identify the state from the given options.
Uttar Pradesh
Madhya Pradesh
Andhra Pradesh
Himachal Pradesh
Answer:3
Who among the following has been appointment by Chinese telecom firm Huawei on 11th January, 2016, as the new Chief Operating Officer (COO) of Huawei Technologies India – the group's first and largest R&D center outside of China.
Guo Ping
William Zhao
Xu Zhijun
Hu Houkun
Answer:2
Who among the following has been appointed in January, 2016 as Vice-President – Industry Development, Strategic Partnerships and Offsets by Airbus India in order to boost its Make in India initiative?
Suraj Chettri
Ashish Saraf
Lakshmi N. Mittal
Srinivasan Dwarakanath
Answer:2
Who among the following footballers has bagged the Ballon d'or award for the world's best football player of the year, 2015 for a record fifth time in January, 2016?
Xavi
Lionel Messi
Fernando Torres
Cristiano Ronaldo
Answer:2
National Youth Day is celebrated every year on 12th January on the birth anniversary of …
Swami Vivekananda
Subas Chandra Bose
Rabindranath Tagore
Raja Ram Mohan Roy
Answer:1
Happy learning !
TEAM CL