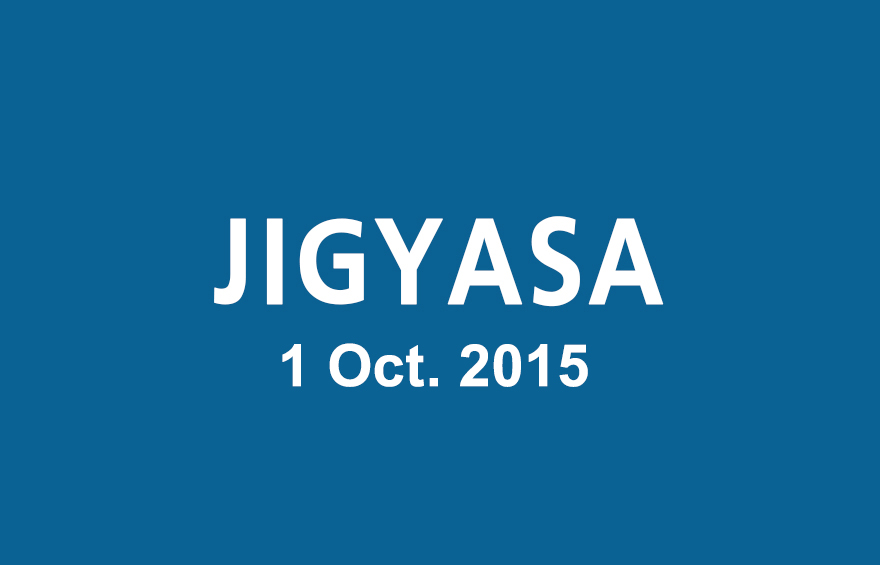 Dear Aspirants ,
Here is the JIGYASA: Daily Current Affairs Quiz of January 4, 2016 for you!!
Which of the following Air Force station of Punjab was attacked by terrorists on 2nd January 2016?
Halwara
Amritsar
Adampur
Pathankot
Answer: 4
Which of the following states become the first to accept e-motor insurance policies in January, 2016?
Odisha
Kerala
Telangana
Tamil Nadu
Answer: 3
A strong earthquake jolts North-Eastern and Eastern parts of the country; Epicenter located in Tamenglong district of Manipur; two persons died five others injured in the state on 4th January, 2016. The magnitude of the earth quake was…
Answer: 4
India's first Rs 250cr urban yacht marina project, along with a residential area, will come up in …
Howrah
Haridwar
Dibrugarh
Brahmapur
Answer: 1
Scientists have discovered a new way to test basic principles of Einstein's Theory of General Relativity using brief blasts of rare radio signals from space in January, 2016. The method is called…
Fast Radio Bursts
Wild Radio Bursts
Rapid Radio Bursts
Quick Radio Bursts
Answer: 1
The birth anniversary of Louis Braille, the inventor of the Braille script for the visually challenged people is marked as 'Louis Braille Day'. It is celebrated on every year on…
1st January
2nd January
4th January
5th January
Answer: 3
Which of the following state governments has inked an MoU on 30th December, 2015 with private helicopter service company Pawan Hans to boost tourism in the state?
Kerala
Rajasthan
Tamil Nadu
Maharashtra
Answer: 4
Which of the following apex development banks has signed a Memorandum of Understanding (MoU) with National Remote Sensing Center (NRSC) for web-based monitoring of watershed projects in January, 2016?
Export-Import Bank of India
Small Industries Development Bank Of India
Agriculture Finance Corporation of India Limited
National Bank for Agriculture and Rural Development
Answer: 4
Which of the following State-owned Banks has launched host of digital banking solutions including green PIN and enhancement of its mobile app in January, 2016?
Bank of Baroda
Allahabad Bank
Bank of Maharashtra
Punjab National Bank
Answer: 4
With which of the following organization the Union government has signed a $50-million credit agreement for a project aimed at helping young people from minority communities complete their education and improve their employment opportunities in January, 2016?
IMF
ADB
UNESCO
The World Bank
Answer: 4
Happy learning!
TEAM CL