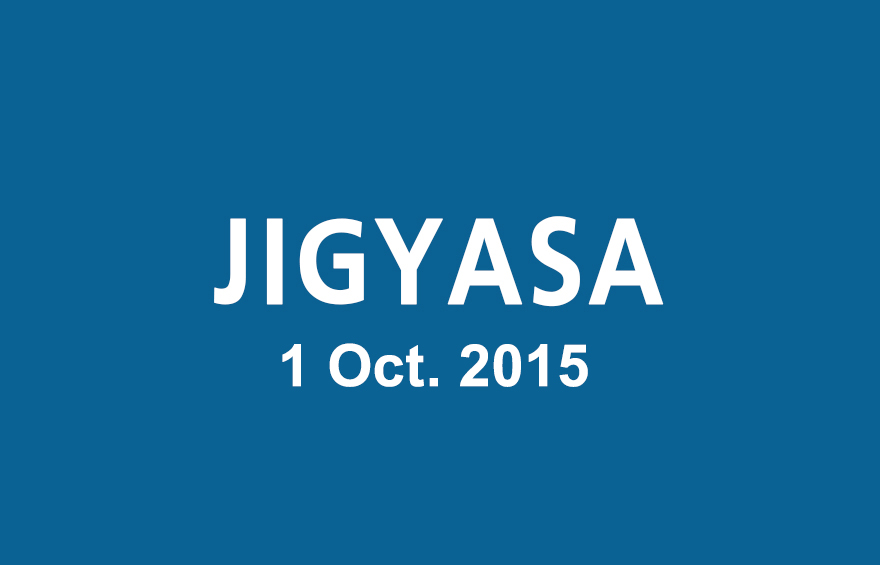 Dear Aspirants,
Here is the JIGYASA: Daily Current Affairs Quiz of January 27, 2016 for you!
Who among the following from the Army's elite Para Special Forces has been awarded the Ashok Chakra, the country's highest peacetime gallantry award, posthumously for his role in saving two colleagues during an encounter with militants in Kashmir in 2015.
Dalbir Singh
Vijay Kumar Singh
Mohan Nath Goswami
Subedar Mahendra Singh
Answer: 3
The rich cultural and ethnic heritage of India, including cuisine and handicrafts from across the country, is being showcased in Delhi as part of a festival called… Organised by the government to mark the 67th Republic Day, the four-day event continues till January 29, 2016.
Bharat Parv
Bharat Utsav
Bharat Diwas
Bharat Garva
Answer: 1
With which of the following countries India has signed a Protocol amending the Double Taxation Avoidance Convention in New Delhi on 26th January, 2016?
China
France
Armenia
Australia
Answer: 3
Name the Harry Potter's author who has been named as the PEN/Allen Foundation Literary Service Award on 25th January, 2016.
K. Rowling
Tim Stoppard
Toni Morrison
Salman Rushdie
Answer: 1
How many children living in conflict and crisis torn areas, will have an access to education in 2016 according to UNICEF's report released in January, 2016?
5 million
6 million
7 million
8 million
Answer: 4
Which of the following countries celebrates its National Day on 26th January, 2016?
Armenia
Australia
Argentina
Afghanistan
Answer: 2
Which of the following states celebrate its 46th Statehood Day every year on 25th January, 2016?
Uttar Pradesh
Andhra Pradesh
Himachal Pradesh
Arunachal Pradesh
Answer: 3
Name the first beach in the country to provide Wi-Fi facility to visitors 24×7 from January, 2016 .
Juhu Beach
Malpe beach
Dandi Beach
Manori Beach
Answer: 2
India signed an inter-governmental agreement on 25th January, 2016 to buy 36 French-built fighter planes. Name the plane.
Rafale
Jaguar
Mirage F1
Super Etendard
Answer: 1
In which of the following categories Padma Awards have been conferred each year?
Padma Shri
Padma Bhushan
Padma Vibhushan
All of the above
Answer:4
Happy learning!
TEAM CL