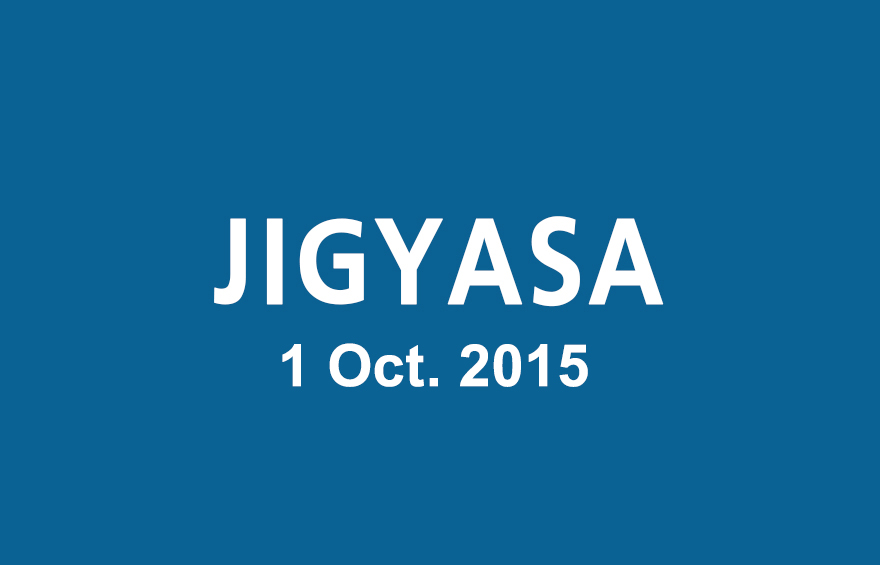 Dear Aspirants,
Here is the JIGYASA: Daily Current Affairs Quiz of January 2, 2016 for you!!
Which of the following States of India, the High Court has imposed a dress code for entry into temples from January 1, 2016?
Karnataka
Kerala
Tamil Nadu
Andhra Pradesh
Answer: 3
National Bank for Agriculture and Rural Development (NABARD) signed a Memorandum of Understanding (MoU) with National Remote Sensing Center (NRSC) for web-based monitoring of watershed projects. NSRC is headquartered at
Chennai
Hyderabad
Bangalore
Mumbai
Answer: 2
To look into revamp of Censor Board, the Government of India has constituted a committee headed by noted film-maker
Jabbar Patel
Shyam Benegal
Satyadev Dubey
Baburao Painter
Answer: 2
For the first time in 70 years, Adolf Hitler's Nazi manifesto 'Mein Kampf' is to be available to buy in Germany. It was banned after WW2 by the state government of
Bavaria
Saxony
Thuringia
Brandenburg
Answer: 1
India has signed financing agreement of 50 million dollar with World Bank for Nai Manzil Education and Skills Training. Who among the following will be the beneficiary of the project?
Minority BPL Women
Minority BPL Children
Minority BPL Youth
None of the above
Answer: 3
There are four printing presses which print and supply banknotes. Which among the following places does not have the printing press?
Dewas in Madhya Pradesh
Mysore in Karnataka
Salboni in West Bengal
Nagpur in Maharashtra
Answer: 4
After the success of paying subsidy to LPG users in their bank accounts, the government of India has announced cash subsidy on kerosene, the users will buy at market price and subsidy money will be directly made available in their bank accounts from
February 1
March 1
April 1
May 1
Answer: 3
Who among the following has been named Cricketer of the Year' 2015?
Virat Kohli
Suresh Raina
Mahendra Singh Dhoni
Gautam Gambhir
Answer: 1
9. Name the committee that has been constituted to focus on 'purity of the game'.
Lodha committee
Mahapatra committee
Mohanty committee
Thorat comittee
Answer: 1
Natalie Maria Cole, the Grammy-winning singer has died. She belonged to
USA
Australia
Germany
France
Answer: 1
Happy learning!
TEAM CL