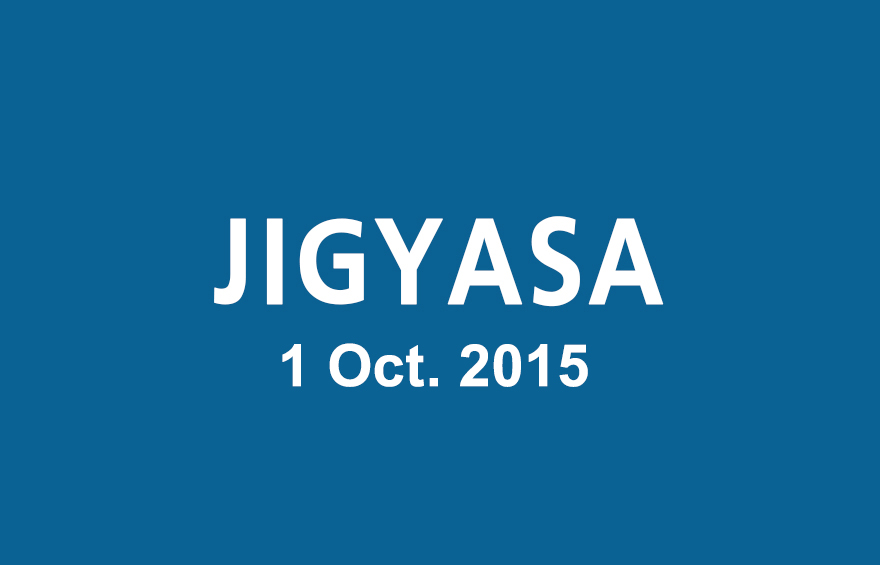 Dear Aspirants,
Here is the JIGYASA: Daily Current Affairs Quiz of January 16, 2016 for you!
The Juvenile Justice Act comes into force on 15th January, 2016. Under the JJ Act 2015, juveniles between 16 and 18 years of age, who are found guilty of committing heinous offences through a preliminary inquiry by the Juvenile Justice Board can be detained in a 'place of safety' until they reach the age of 21. It is also known as….
borstals
Sudhar Griha
juveniles Jail
Sudhar Sanstha
Answer: 1
Which of the following states government has sought a drought relief of 2,344.99 crore rupees from the Centre in January, 2016?
Kerala
Bihar
Odisha
Rajasthan
Answer: 3
For which of the following states the Centre on 14th January, 2016 approved Rs 791 crore drought assistance to the state?
Kerala
Odisha
Rajasthan
Telangana
Answer: 4
Name the first woman Vice Chancellor of Kerala who has been selected for the prestigious Prof M V Pylee Award for the best academician in January, 2016?
Keshava Reddy
Dr Jancy James
Rajanarayanan
Kalki Krishnamurthy
Answer: 2
Name the Delhi based journalist-writer who has earned the European Commission's prestigious Lorenzo Natali Media Prize for 2015 (Asia-Pacific) in January, 2016.
Anu Anand
Anita Anand
Ankita Anand
Anuradha Anand
Answer: 3
Who among the following has/have been included in the Shyam Benegal committee that has been set up by the government to holistically look into the functioning of controversy ridden Central Board of Film Certification (CBFC) making it a six-member body in January, 2016.
Kamal Hassan
Gautam Ghosh
Piyush Pandey
All of the above
Answer: 4
Union Minister Suresh Prabhu in January, 2016 said that one of the following banks would be the anchor investor in the new Railway Development Fund, which would be used to fund modernisation of Indian railways. Identify the Bank.
The World Bank
State Bank of India
Reserve Bank of India
International Monetary Fund
Answer: 1
Name the Former World No. 1 Tennis Player and 1st Russian player who has joined the Name the International Tennis Hall of Fame in Janaury, 2016.
Marat Safin
Igor Andreev
Yevgeny Kafelnikov
Nikolay Davydenko
Answer: 1
Which f the following tennis pairs has clinched the WTA Apia International title in women double in January, 2016?
Sania Mirza and Martina Hingis
Raluca Olaru and Yaroslava Shvedova
Caroline Garcia and Kristina Mladenovic
Puerto Rican Gigi Fernandez and Natasha Zvereva
Answer: 1
The 349th Birth Anniversary of one of the following Sikh Gurus is being celebrated on 16th January, 2016 in the country. Identify him from the given options.
Guru Nanak Dev
Guru Har Gobind
Guru Teg Bahadur
Guru Govind Singh
Answer: 4
Happy learning!
TEAM CL