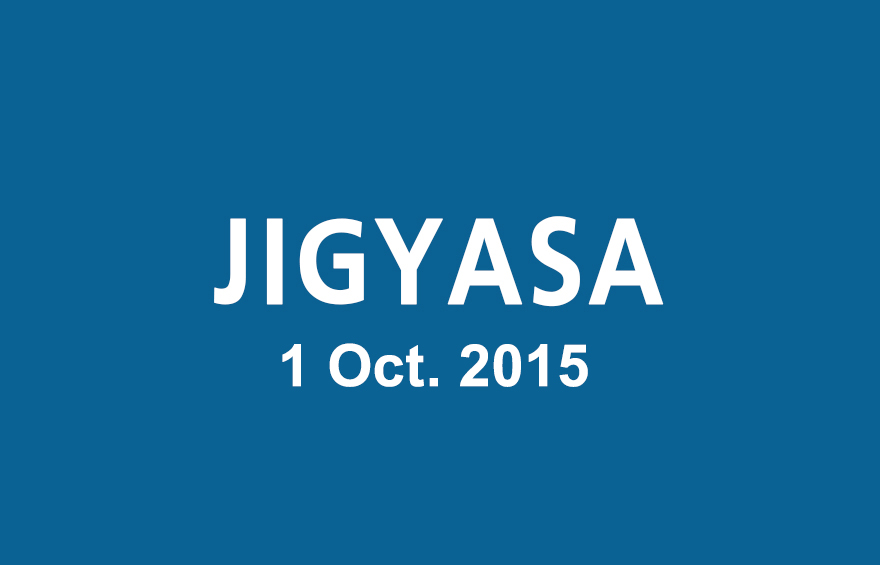 Dear Aspirants ,
Here is the JIGYASA: Daily Current Affairs Quiz of January 15, 2016 for you!
Which of the following countries becomes India's first organic state in January, 2016?
Assam
Sikkim
Manipur
Mizoram
Answer: 2
Which of the following autonomous agencies has signed Memorandum of Understanding with National Remote Sensing Centre (NRSC) under Indian Space Research Organization (ISRO) and North East Centre for Technology Application and Research (NECTAR) in January, 2016, for use of spatial technology for monitoring and managing national highways?
National Highways Authority of India
Indian Roads Construction Corporation
Indian Academy of Highway Engineers
Indian Academy of Highway Engineers
Answer: 1
The Coast Guards of India and Japan will be conducting their 15th joint exercise off the coast of Chennai on 15th January, 2016 for the bilateral training. It is called…
Sima-Sahyog
Sahyog-Kaijin
Sahyog-Sandhi
Military-Sahyog
Answer: 2
Human Resource Development Minister Smriti Irani on 14th January, 2016 inaugurated the first phase of permanent campus of Indian Institute of Science Education and Research (IISER) at…
Hyderabad
Visakhapatnam
Ernakulam district
Thiruvananthapuram
Answer:4
National Army Day is annually celebrated on…
12th January
13th January
14th January
15th January
Answer: 4
World Health Organization (WHO) on 14th January, 2016 declared an end of the Ebola epidemic from one of the following counties. Identify it from the given options.
Liberia
Guinea
Nigeria
Sierra Leone
Answer: 1
Which of the following banks has opened its first branch dedicated to serving startup companies in Bengaluru on 14th January, 2016?
Corporation Bank
State Bank of India
Union Bank of India
Punjab National Bank
Answer: 2
Which of the following pairs of world Tennis Association has broke 22-year-old world record by winning their 29th women's doubles match in a row en route to their entry into the women's doubles final of the WTA Sydney International on 14th January, 2016?
Garcia and K. Mladenovic
Sania Mirza and Martina Hingis
Raluca Olaru and Yaroslava Shvedova
Puerto Rican Gigi Fernandez and Natasha Zvereva
Answer: 2
Which of the following states of India has the maximum grid-connected capacity according to a statement issued by the Ministry of New and Renewable Energy in January, 2016?
Gujarat
Rajasthan
Tamil Nadu
Madhya Pradesh
Answer: 2
The Defence Research and Development Organisation (DRDO) in the second week of January 2016 successfully test-fired Nag anti-tank missile at the Mahajan Field Firing Range in….
Odisha
Jaisalmer
Hyderabad
Visakhapatnam
Answer: 2
Happy learning!
TEAM CL