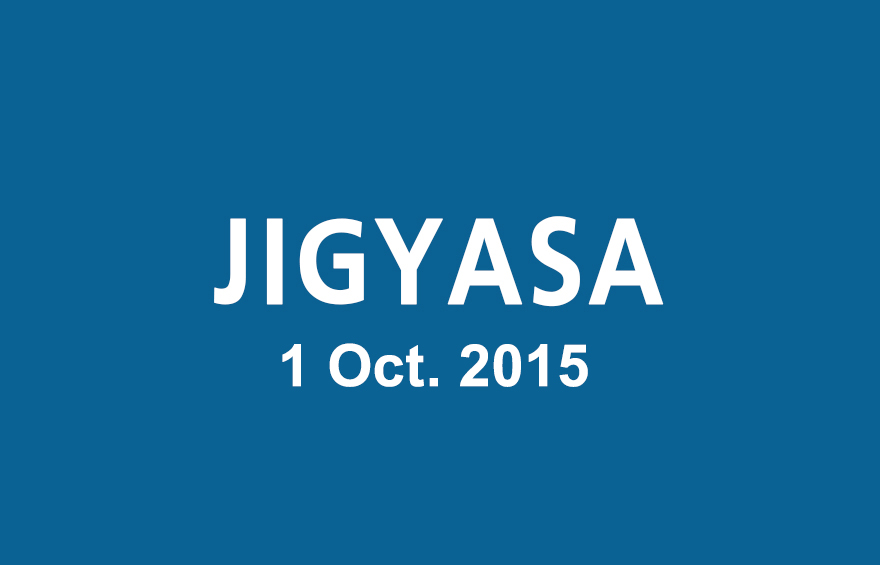 Dear Aspirants,
Here is the JIGYASA: Daily Current Affairs Quiz of February 5, 2016 for you!
Which of the following Ministries has launched an official YouTube channel on 4th February 2015?
Defence Ministry
Ministry of Finance
Ministry Of Home Affairs
Ministry of Women and Child Development
Answer : 2
Which of the following taxicab services has bagged the prestigious Chief Minister's Award in Kerala for Innovation in Public Policy 2014?
She Taxi
Panickers Cabs
com
Kochi Taxi Cabs
Answer:1
India in February, 2016 through the Department of Biotechnology, Ministry of Science and Technology signed a Cooperation Agreement to acquire the status of the Associate Member State one of the following organization. Identify it.
Institute for Systems Biology
Department of Systems Biology
United Kingdom Systems Society
European Molecular Biology Organisation
Answer:4
Name the first ever petro-chemical project in the entire North-East to be inaugurated by Prime Minister Narendra Modi on 5th February, 2016?
Barak Cracker and Polymer Limited
Sikkim Cracker and Polymer Limited
Mizoram Cracker and Polymer Limited
Brahmaputra Cracker and Polymer Limited
Answer:4
The International Fleet Review 2016 will be held in one of the following cities in February, 2016? Identify the city.
Pune
Bangalore
Hyderabad
Visakhapatnam
Answer:4
State-run iron ore pellets maker KIOCL has inked a pact with one of the following state government in February, 2016 to set up a beneficiation plant and a pelletisation unit in Bellary district in the state. Identify the state.
Telangana
Karnataka
Tamilnadu
West Bengal
Answer:2
Who among the following has taken over the charge of Chairman and Managing Director of state-run power generator NTPC in February, 2016?
Sanjeet Singh
Sandeep Singh
Gurdeep Singh
Suraj Maan Singh
Answer: 3
Hyderabad-based Bharat Biotech claimed it is probably the first in the world to file for a global patent for Zika vaccine candidates in February, 2016. It is called…
Zikavac
Zikavax
Zikamad
Zika vaccine
Answer:1
Name the NASA's spacecraft set to arrive at Jupiter in 2016 to study the giant planet from an elliptical, polar orbit after the spacecraft successfully executed a manoeuvre to adjust its flight path on 4th February, 2016?
Answer:2
The 12th South Asian Games kicks off in one of the following cities in February, 2016. Identify the city.
Guwahati
New Delhi
Bangalore
Hyderabad
Answer: 1
Happy learning!
TEAM CL