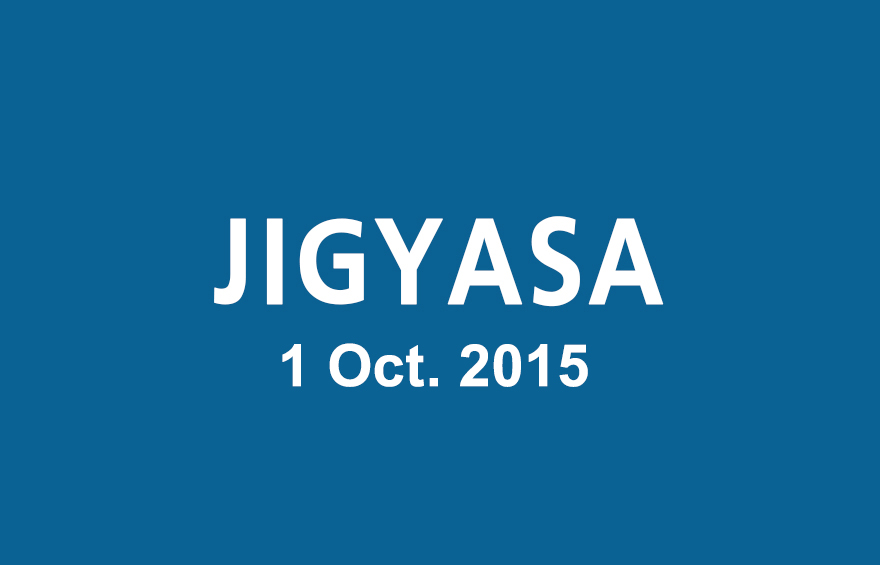 Dear Aspirants , Here is the JIGYASA: Daily Current Affairs Quiz of February 10, 2016 for you!
Which of the following Indian zoos decided to send two dozen spotted deer to Singapore zoo?
(1) Hisar Deer Park, Haryana
(2) Mysuru Zoo
(3) Jaipur Zoo
(4) Kanpur Zoo
Answer: 2
R.K. Pachauri has been promoted from Director General to Executive Vice-Chairman of:
(1) TERI
(2) SAIL
(3) GAIL
(4) IITM
Answer: 1
In which European country, on February 10, 2016, two commuter trains crashed head-on killing at least nine people and injuring more than 100, one of the country's deadliest rail accidents in years?
(1) United Kingdom
(2) France
(3) Italy
(4) Germany
Answer: 4
Which of the following countries recently approved the Hindu Marriage Bill that provides its Hindu minority community a marriage law?
(1) Afghanistan
(2) Bangladesh
(3) Pakistan
(4) Indonesia
Answer: 3
Recently which of the following countries unveiled a new cyber-security "national action plan" calling for an overhaul of aging government networks and a high-level commission to boost security awareness?
(1) United States
(2) Russia
(3) Canada
(4) France
Answer: 1
Which of the following countries has restarted a plutonium reactor, capable to produce fuel for nuclear weapons, mothballed in 2007 under an aid-for-disarmament accord?
(1) Pakistan
(2) Iran
(3) North Korea
(4) Egypt
Answer: 3
Which of the following Indian States is set to emerge India's first silicon chip manufacturing hub and the fourth such region in the world?
(1) Andhra Pradesh
(2) Maharashtra
(3) Karnataka
(4) Haryana
Answer: 2
The Government of India has renewed a contract with the Wicks Group to help the country retain its air safety ranking. Wicks Group is based in:
(1) France
(2) Canada
(3) Sweden
(4) United States
Answer: 4
The venue of the 12th South Asian Games is:
(1) Bhopal
(2) Guwahati
(3) Kakinada
(4) Gandhinagar
Answer: 2
Mayookha Johny won gold medal in the 12th South Asian Games in which of the following sports?
(1) Long jump
(2) High Jump
(3) Shooting
(4) Swimming
Answer:1
Happy learning!
TEAM CL