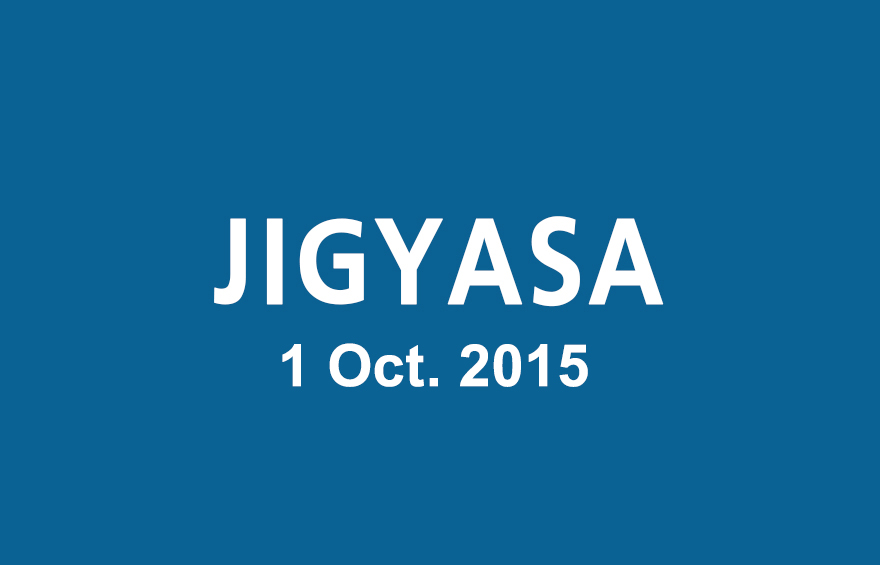 Dear Aspirants, Here is the JIGYASA: Daily Current Affairs Quiz of December 20, 2015 for you!!
In December 2015, India got its biggest Wildlife Rescue Centre at:
1) Madurai
2) Nagpur
3) Cuttack
4) Kolkata
Answer: 2
In December 2015, which among the states joined Centre's UDAY scheme?
1) Odisha
2) Jharkhand
3) UP
4) Maharashtra
Answer: 3
In Scientists of the Zoological Survey of India ( ZSI) have discovered a new species of eel along the coast of which among the following states?
1) West Bengal
2) Odisha
3) Gujarat
4) Maharashtra
Answer: 1
Recently which top Medical Institution of India launched an online tracking system for poor patients?
1) AFMC, Pune
2) AIIMS, Delhi
3) SGPGI, Lucknow
4) PGI, Chandigarh
Answer: 2
Which among the following country has become 163rd member nation of the World Trade Organization (WTO) in December 2015?
1) Djibouti
2) Seychelles
3) South Sudan
4) Afghanistan
Answer: 4
In December 2015 world powers agreed at the United Nations Security Council (UNSC) to embrace a plan for a ceasefire and a peace process that holds the distant prospect of ending the conflict. This plan is known out as:
1) Iran Plan
2) Syrian Plan
3) Iraq Plan
4) Afghanistan Plan
Answer: 2
In December 2015, WTO Ministerial meet has been conducted out at:
1) London
2) Brussels
3) Nairobi
4) Luanda
Answer: 3
In December 2015, which Asian country has banned Foreign companies to enter gem mining industry in the country?
1) India
2) Pakistan
3) Sri Lanka
4) Maldives
Answer: 3
In order to ensure safety which among the following has been planning to introduce a mechanism that will automatically cancel reversal trades executed on its platform?
1) NSE
2) BSE
3) SEBI
4) IRDA
Answer: 2
In December 2015 evidence of Buddhist monastery is found in which among the following cities of Andhra Pradesh?
1) Guntur
2) Chittoor
3) Kurnool
4) Vishakhapatnam
Answer: 4
Happy learning!
TEAM CL