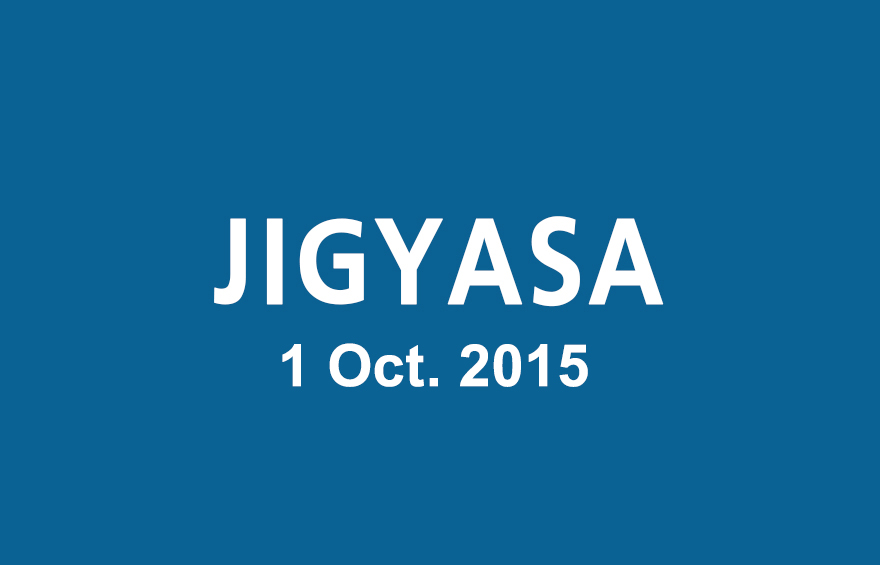 Dear All,
Here is the JIGYASA: Daily Current Affairs Quiz of December 11, 2015 for you!!
1.In December 2015, which country is set to partner India in road-building efforts through the establishment of an infrastructure financing company in which both nations will have an equal stake?
1) China
2) Germany
3) Japan
4) USA
Answer:3
In India the Bullet train project is between which two cities of India?
1) New Delhi & Agra
2) Chennai & Bengaluru
3) Lucknow & Kolkata
4) Ahmedabad & Mumbai
Answer:4
In December 2015 which state become the 9th State in India to formally adopt UDAY (Ujwal DISCOM Assurance Yojana)," ?
1) Haryana
2) Gujarat
3) Uttar Pradesh
4) Chhattisgarh
Answer:4
Recently the Reserve Bank had included IDFC Bank Ltd in which among the following schedule of the RBI Act?
1) First
2) Second
3) Third
4) Fourth
Answer:2
Who is the present Director General of WTO?
1) Robert Frank
2) Hanif Quereshi
3) Roberto Azevedo
4) Ronald Garryson
Answer:3
Who is the newly sworn President of Argentina?
1) Cristina Kirchner
2) Federico Pinedo
3) Mauricio Macri
4) Ronald Newstar
Answer:3
In December 2015, the Nobel Peace Prize was presented to a group of four organizations that saved Country transition to democracy through dialogue. These organisations belong to:
1) Syria
2) Tunisia
3) Greece
4) Germany
Answer:2
Indian Government was planning to construct 7,000 kms of new national highways by including coastal and border areas under the……Pariyojana.
1) Sabrimala
2) Golden Heights
3) Bharatmala
4) Dharohar
Answer:3
In December 2015, NGT directed complete ban on use of plastic of any kind from ………along Ganga with effect from February 1, 2016?
1) Gomukh to Haridwar
2) Gomukh to Rishikesh
3) Rishikesh to Kanpur
4) Haridwar to Kolkata
Answer:1
Which is set to be declared as first digital State of India?
1) Karnataka
2) Andhra Pradesh
3) Telangana
4) Kerala
Answer:4
Happy learning!
TEAM CL