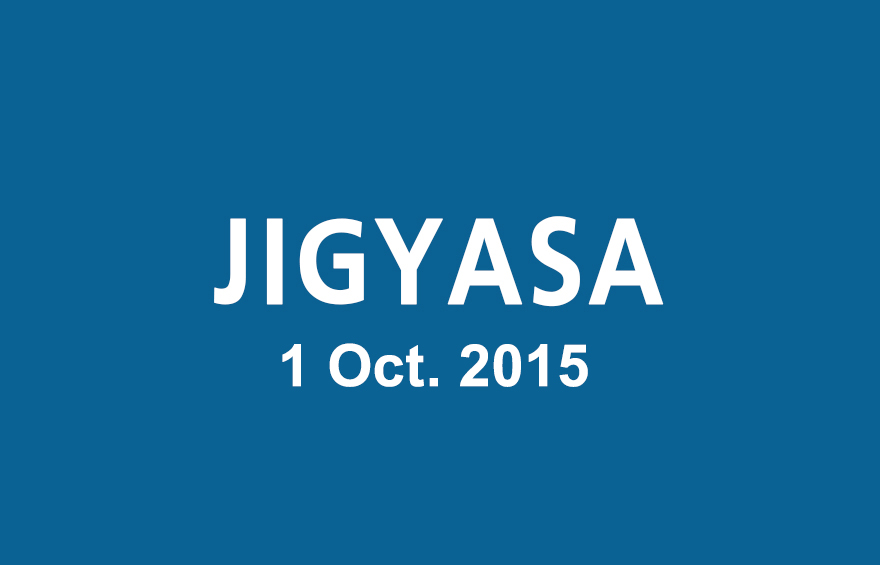 Dear Aspirants,
Here is the Jigyasa: Daily Current Affairs of Oct.14, 2015 for you!
Which of the following countries wants to set up a textile park in Kadi near Ahmedabad with an initial investment of Rs 240-300 crore in October, 2015?
Bangladesh
Nepal
Germany
UK
Answer: 1
Name the Slovenian firm with which India has signed a contract for 194 micro-light aircraft to be used by Indian Air Force, the Navy and the National Cadet Corps (NCC) in October, 2015.
Pipistrel
Ultralight Aircraft Manufacturers
Aircraft Manufacturers
Microlight aircraft
Answer: 1
In which of the following countries 'Modi Express' bus will be launched to mark Prime Minister Narendra Modi's maiden visit to that country in November, 2015?
Answer: 4
Name the river, where China operationalized the USD 1.5 billion Zam Hydro-power Station, the largest dam in Tibet in October, 2015.
Daxia River
Yarlung Zangbo river
Lancang River
Nu River
Answer: 2
Which of the following states will play host to the All Lights India International Film Festival (ALIIFF) 2015 and Indywood Film Market (IFM) from November 15 to 21?
Telangana
Assam
Kerala
Gujarat
Answer: 3
Who among the following became the first Indian female bodybuilder to win a silver medal in the 49th Asian championship, held in Uzbekistan and qualified for the World Championship, to be held in Thailand in November, 2015?
Shweta Rathore
Ajit Bharat Shree
Sibalika Saha
Ashwini Waskar
Answer: 1
Name the person, who has been appointed as the new MD and CEO of the state-owned Bank of Baroda for three years?
Shyamal Ghosh
P S Jayakumar
Vikas Sharma
Pradeep kumar
Answer: 2
Name the person, who has been elected as Fiji's next president on 13th October, 2015?
Jioji Konousi Konrote
Frank Bainimarama
Khadga Prasad Sharma Oli
Epeli Nailatikau
Answer: 1
Name the person, who has been chosen for the prestigious J C Daniel award for 2014, instituted by Kerala government, in recognition of his sterling contributions to the Malayalam film industry?
M T Vasudevan Nair
T Rajivnath
I V Sasi
P V Gangadharan
Answer: 3
Name the person, who has been honoured by the Tamil Nadu government with its 'Avvaiyaar Award' for the year 2015?
Mathangi Ramakrishnan
Dr Shanthi Ranganathan
V. Shanta
Valarmathi
Answer:2
Happy reading!!
TEAM CL