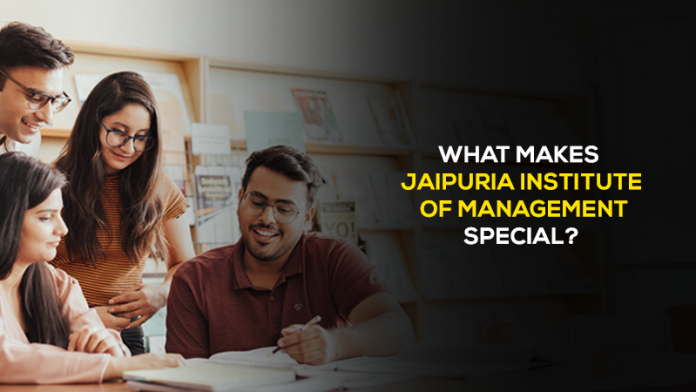 Jaipuria Institute of Management's foray into the world of Management education has not only been a game changer for academia but the industry too.
In 1995, Jaipuria Institute of Management, Lucknow started its journey in management education. With 25 years of excellence in offering quality education. Today Jaipuria has carved its presence PAN India with campuses in Noida, Jaipur and Indore. Three of its campuses are ranked amongst the top 75 B-Schools in India by the Ministry of HRD, Government of India. It has been accredited by NAAC, National Board of Accreditation and Association of Indian Universities, AACSB member and has consistently ranked amongst Top B School rankings by other renowned organizations. Jaipuria recently won gold award at the Indian Management Conclave 2019 for their initiatives and approaches in nurturing faculty resources.
But beyond the rankings and accreditations, what makes Jaipuria Institute of Management a world class learning institution that is on par with the best? We look at some of its hallmarks, which make it stand out from many other PGDM colleges in India.
Placements: If placements are a testament to the strength of a B School, then Jaipuria Institute of Management has been flexing its muscles one placement season after another. The Class on 2019 saw a stunning 99% placement record with more than 375 recruiters hiring its industry ready students from four campuses. Amazon, Deloitte, HDFC Bank, Aditya Birla Group, Times Internet, Treebo Hotels, Makemytrip; the big ones, the startups, the established names, they all came for recruitment. The highest salary package of 18.05 LPA was the cherry on top of the sterling last placement season.
Specialized Programs: Jaipuria Institute of Management offers several AICTE approved, NBA credited and AIU recognized programs across campuses that are in keeping with latest industry trends. Besides the flagship PGDM program there are programs, which aspirants can choose based on their specific interests. PDGM-Financial Services, PGDM-Retail Management, PGDM-Marketing and PGDM -Service Management that give students the cutting edge advantage in their chosen fields. The doctoral level Fellow Program in Management is in keeping with the B School's educational philosophy that emphasizes on research.
World class faculty: Jaipuria takes the pride for its world-class intellectual faculty. Students at Jaipuria are chiseled by the industry and academic stalwart, who make them ready for growth and success in life. To name a few some of the academic stalwart at Jaipuria are former Director, IIM Ahmedabad Dr. Devi Singh; Former CEO, National Skill Development Corporation – Prof. Jayant Krishna and Former Advisor –Patanjali, Dr. VP. Singh, as Adjunct Professors.
Strong Alumni Network: Many of these students have benefited from the launch pads and gone on to build successful corporate careers in India and internationally. In fact, Jaipuria Institute of Management has a 9000+ strong alumni network all over the world. From leading entrepreneurs to group heads, CEOs and CFOs, they have paved the way for students to follow. The B School strengthens the bond through Alma Connect, which is an interaction network between alumni, students and faculty. It is an opportunity for students to be mentored by their role models and be inspired.
Location: Its locations in bustling cities in the heart of North and Central India including the National Capital Region, give the B School a strategic advantage. It has enabled Jaipuria Institute of Management to foster strong industry relationships, which are harnessed for the benefit of students. The B School organizes industry interaction sessions, site visits, seminars and conferences, which offer students insights into the professional sphere. Its strong industry collaborations also help the B School facilitate best internship opportunities for students, which are the stepping stone into the corporate world.
Uncampus: The unique initiative that bridges the learning across its 4 campuses. This one of a kind initiative creates a culture of learning, boundless exchanges and simplified process to maximize outcomes through uniform curriculum, centralized placement, common admission and so on. Students from different backgrounds, many with work experience, bring their diverse perspectives to the stimulating learning environment. With its focus firmly on not creating just management professionals but leaders of tomorrow, Jaipuria Institute of Management gives its student that special X factor.