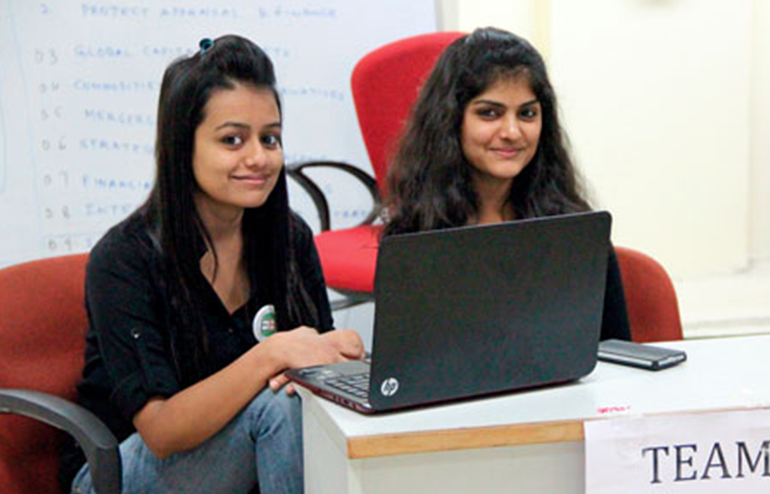 The success of any B-School lies in preparing its students for industry. In this regard, IBS has consistently stayed ahead of most of the competition.  Here are some of the contributing factors in the efforts of IBS in making its students' industry-ready.
Case method of teaching
Summer Internship program
Role of Alumni
Seminars and Guest lectures by Industry experts
Contemporary courses and partnered programs
Visiting faculty from industry
Career Management Center
International Immersion Programs
Industry Visits
Academic Advisory Committee
 Case method of teaching
Case method of teaching is a study of real-life scenarios faced by industry and discussion on the approach taken, its outcome and analysis. Each case exposes students to a variety of issues faced by industry. Students learns by taking the role of a decision-maker in real organizations, which helps them understand issues faced by managers and helps them to bridge the gap between theoretical approach and practical handling of situations.
At IBS, almost all courses are taught through real-life cases.
Summer Internship program
SIP is an integral part of the curriculum of IBS with close supervision from the faculty. SIP was institutionalized as a very important process which provides a platform for students to tackle real-life projects. The 14-week long format gives enough scope for students to learn more by taking up and completing a meaningful, valued project for the company. Such efforts have strengthened IBS relationship with the industry and paved the way for pre-placement offers.
Role of Alumni
IBS has a growing alumni base of around 50,000 who are currently pursuing fast track careers with 1000 plus companies in India and abroad. Their success in the corporate area is an eloquent testimony to their skills, abilities and hard work, stemming from the quality and rigour of business education at IBS. This strong network of alumni is one of the strengths of IBS. The alumni remain in touch with their alma mater, IBS through IBS Alumni Federation (IBSAF), and also the current students of IBS. This network of alumni is a point of strength in interfacing IBS with Industry.
Seminars and Guest lectures
Industry interaction programs are organized by IBS campuses with a cross-section of professionals from various sectors and functional areas like financial services, marketing, human resource management, operations, information technology etc. A range of professional development seminars are also organized with the industry to facilitate regular job placements. Contemporary topics like Big Data Analytics and Block Chain are also covered by experienced professionals from the industry.
Contemporary courses and partnered programs
IBS is in constant touch with the current industry needs. Students are exposed to the latest body of knowledge through contemporary, market-oriented curriculum. IBS is in collaboration with several national and international organizations to train its students in specialized areas such as information technology and business analysis & research. The partnerships include:
Microsoft – IT Academy program
SAS – The power to know
SPSS
A joint certification program by HDFC which is helping students in placements.
Visiting faculty from industry
IBS acknowledges the fact that most of contemporary and specialized courses are best handled by industry professionals, with relevant field experience who bring their expertise into the classroom. Their experience would help the students immensely.  Hence wherever there is such need, services of visiting faculty are availed.
Career Management Center
IBS has set up the Career Management Center (CMC) which looks after the placement activities of its students throughout the year. CMC operates under the overall guidance of a Faculty Coordinator who heads a team of Corporate Relationship Executives with strong industry connect, established since 1995. The main objective of CMC is to enhance the placement prospects of the students. CMC personnel visit potential employers in various corporates and appraise them of the ample talent available at our business school. Over the years they have developed a mutually beneficial relationships with over 4000 companies in India and abroad.  CMC also arranges training in soft skills, group discussions and mock interviews by industry professionals for final placements. Through PACT (Placement Advisory Counselling and Training) Teams and with active collaboration with Industry experts, students are administered specific skill development programs. This is a unique concept available at all IBS Campuses. The best of companies recruit from IBS every year and this trend continues. Students are offered training in personality development and sensitized to the importance of entrepreneurship and leadership and adaptability to environment in ensuring organizational success.
International Immersion programs
IBS campus teams venture out on international immersion programs periodically. This aims at first-hand experience of the business practices in different countries and developing global and cross cultural competence.
Industry Visits
As part corporate exposure, regular visits to manufacturing facilities, corporate offices and retail outlets are organized as part of various courses. During these visits, students are able to relate to the concepts and connect back to the theories, making the learning holistic. Students get to interact with senior executives of the organizations.
Academic Advisory Boards
IBS campuses constitute an Advisory Committee comprising of five active senior-most employees from the corporate sector to meet once in a semester, along with Campus Head & Academic Coordinator to discuss various issues related to current market needs, changes that are needed to be made in the curriculum and making it more dynamic compared to other B-Schools.
IBSAT 2019 Registrations are open. To apply click here