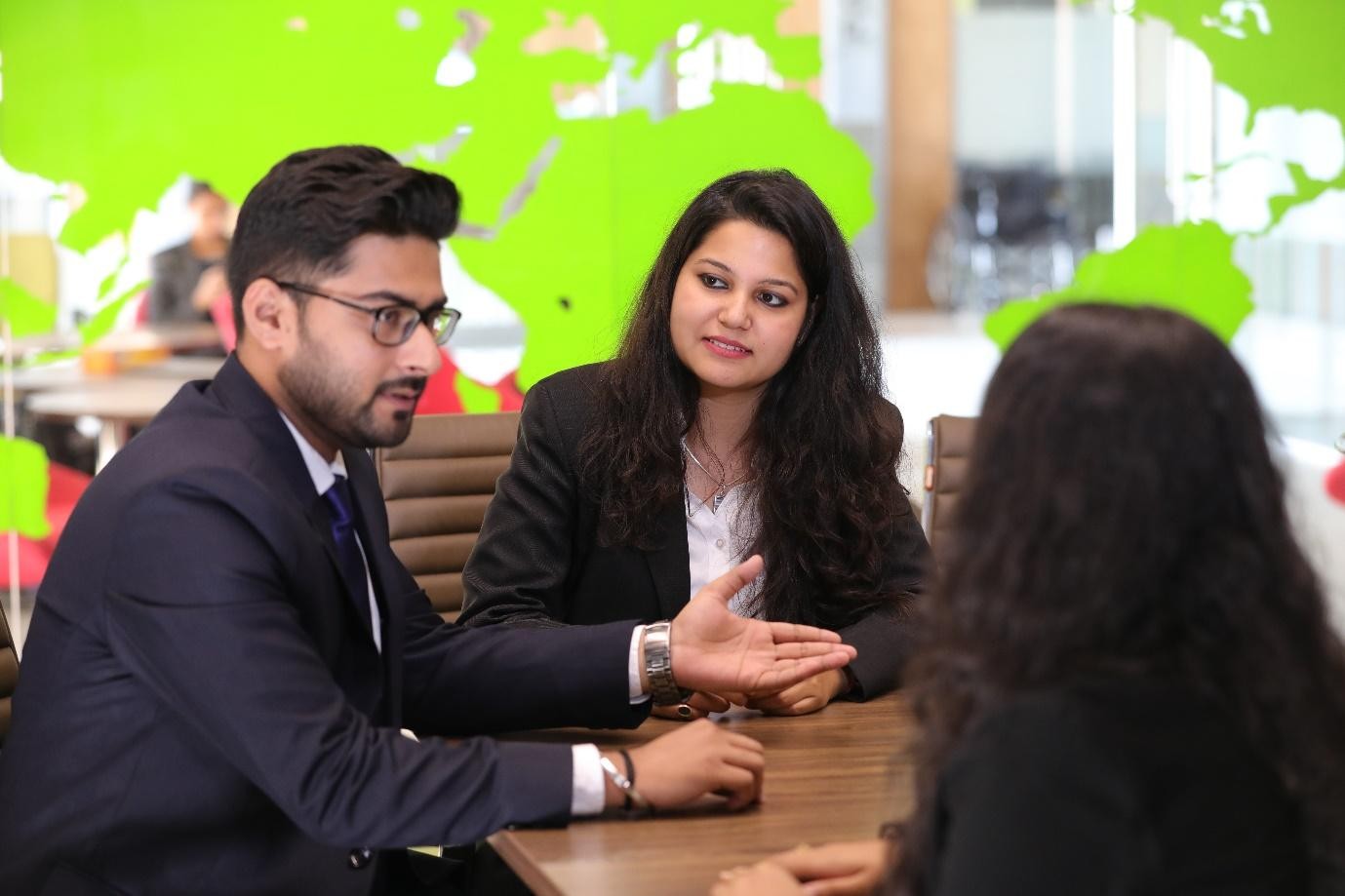 1. Great Lakes Institute of Management has become one of the top business schools in the country in a very short period and has been ranked among the top 20 by NIRF. What sets Great Lakes apart?
Great Lakes Institute of Management has been progressing with one primary objective in mind – to stay relevant to all stakeholders at all times. It strikes a balance between the needs of the industry and the needs of management aspirants by being consistently innovative and meeting the industry requirements for the future. Here are some of the factors that have put Great Lakes in the ranks of some of the most prestigious business schools in the country.
Great Lakes Chennai Campus
Innovative Curriculum: Our curriculum is designed to be aligned to what the industry needs now and for the future, especially in this digital age of Industry 4.0. Great Lakes has identified how important it is to incorporate analytics across functions in order to have a larger business impact. We were the first Business school in India to introduce a specialization in Analytics in 2013, and have been ranked first across Business Schools for our Analytics program (by Analytics India Magazine since the last 4 years).
We were also the pioneers in introducing Mandarin (Chinese language) as a course in our MBA programs. China is our largest trade partner and the second largest economy in the world. Therefore, knowledge of the native language would come in handy for better trade relations between the two countries.
Great Lakes Gurgaon Campus
World Class Global Faculty: We have a diverse pool of faculty coming from rich academic and professional backgrounds. These faculty members have taught at premier business schools such as Stanford Business School (US), Booth School of Business (US), Kellogg School of Management, Columbia Business School (US), HKUST (Hong Kong), NUS (Singapore), Bauer College of Business (Houston), Cardiff Business School (UK), and University of Ulm (Germany) to name a few. Apart from these, we also have visiting faculty from the top business schools across the world teaching at our campuses. Our constant efforts to deliver globally benchmarked standards have made us the youngest business school to earn the coveted AMBA Accreditation for both our campuses.
Experiential Learning: Great Lakes has its one-of-a-kind Leadership Experiential Action Program, called Karma-Yoga. Great Lakes believes in teaching Leadership to its students by putting them on the field, instead of simply talking about it in classrooms. The Karma-Yoga gives a platform for the students to bring out their true leadership potential in a socially responsible manner by being instrumental in implementing various education, sanitation, infrastructure and medical projects in over 35 villages around Chennai and Gurgaon campuses.
Karma Yoga Activity
2. Great Lakes offers both, the One-Year MBA as well as the Two-Year MBA programs. How do the two programs compare?
A one-year program is meant for people who come with a certain level of industry exposure and already possess certain basic skills and abilities for a fast-paced MBA program. Students in our one-year Post Graduate Program in Management (PGPM) come with work experience of more than 2 years, with an average of over 3 years. With the one-year program, students can accelerate their careers and get back to the industry quicker.
Professionals who have worked for over two years have well defined goals to pursue and feel the need to upskill themselves to grow or transition their careers. However, personal commitments, responsibilities and even loans make it difficult for them to take a break for two years. A one-year program cuts back on the opportunity cost of foregone earnings by half and provides a higher Return on Investment to these professionals.
A conventional two-year program teaches management concepts and principles from the ground level basics and is more relevant to students who have recently graduated and have much less corporate exposure. The two-year Post Graduate Diploma in Management (PGDM) at Great Lakes caters to aspirants with 0 to 2 years of work experience.
3. How do you ensure that the students in a one-year MBA get the same learning as the ones in a two-year program?
Essentially, a two-year program is 18 months long. It starts in July and ends in March and out of these 21 months, the students spend 3 months in a Summer Internship leaving 18 months for the actual academic curriculum. These 18 months are compressed into a year in the one-year program leveraging the fact that the students are better prepared for an accelerated learning experience.
The students in a one-year MBA class come with a good amount of work experience. The collective work experience of our current PGPM batch is over 1300 years. This experience helps the students have a higher starting point while beginning their management education. Sharing of this experience in classroom discussions and group assignments, projects and case analysis facilitates peer learning among the students. This peer learning is a collaborative learning experience which makes it easier to link concepts to real-world experiences and develop broader perspectives.
Since the students in such a cohort already have a certain level of work experience, they do not need to go through a summer internship. Instead, they take up various live project opportunities, in an area of their choice, and work on certain business requirements provided by a company. These requirements could be to solve a strategic problem that the company is facing, a go-to-market strategy, an expansion plan, or any new initiative that the company plans to take up. These projects run parallel with the program, and students leverage all their learnings gained through their career and the program to devise innovative business solutions.
4. How does the Return on Investment in a one-year program compare with that in a two-year MBA? Tell us more about the PGPM placements at Great Lakes.
Let's assume we have two management aspirants, A and B, pursuing a one-year MBA program and a two-year program respectively. Both programs cost 18 Lacs and both aspirants are hired at 14 Lacs per annum. The opportunity cost for aspirant A is half of that of B. This directly translates into a higher RoI on the one-year program as aspirant A earns for a year while B is still in the second year of the program. By the end of two years, let's say A has earned a 10% hike and is now earning 15.4 Lacs per annum while B is earning 14 Lacs. With higher earnings as numerator and lesser opportunity cost in the denominator, A is earning significantly higher Return on Investment as compared to B.
Our PGPM 2018-19 students have been recruited by some of the most sought after brands such as Accenture Strategy, Aditya Birla Capital, Amazon, Barclays, Cognizant, Deloitte, EY, HSBC, Mu Sigma, ZS Associates, to name a few. The average package stood at 13.1 Lacs per annum, while the highest CTC was 29 Lacs per annum.
Roles have been offered in a number of industries such as Analytics, E-Commerce, Consulting, FMCG, IT/ITES, and so on. Roles offered to one-year MBA students put them in management positions with higher responsibilities from day one, while two-year graduates are often subjected to another year of grooming at the organization as Management Trainees and similar roles.
5. Tell us about the admissions process at Great Lakes, and the eligibility criteria for the PGPM and PGDM programs.
Admissions to both programs follow a complete profile-based evaluation process. We take into account your entrance test scores (GMAT, CAT and XAT), academic track record, work experience, and achievements during your academic and professional years.
While test scores play a role in helping us shortlist your profile, it is not the only criteria and we look for well-rounded individuals evaluated on multiple parameters for our programs. Admissions for the PGPM give a higher weightage to the quality of your work experience and essays, while admissions to the PGDM give a higher weightage to your academic performance so far.
Our minimum eligibility criteria include:
PGPM:

A work experience of 2 years or more as on 31st March 2020
Scores from GMAT taken after 1st January 2017, CAT taken in 2018/2019, XAT taken in 2019/2020 or CMAT taken in 2019
A Bachelor's degree in any discipline from a recognized institution
PGDM:

A work experience of 0 to 2 years as on 30th June 2020
Scores from GMAT taken after 1st January 2018, CAT taken in 2018/2019, XAT taken in 2019/2020 or CMAT taken in 2019/2020
A Bachelor's degree in any discipline from a recognized institution
Special preference for College/University rank holders in terms of an extra weightage gained as part of the selection process, on producing sufficient proof of achievement
Key Dates to remember: 
PGPM:

Issue of Application Forms – 8th July, 2019
Cycle 1 Deadline – 30th November, 2019
Cycle 2 Deadline – 31st January, 2020
PGDM:

Issue of Application Forms – 26th August, 2019
Submission Deadline – 25th February, 2020
6. What does Great Lakes look for its in applicants?
Apart from academic, professional and extracurricular achievements, Great Lakes looks for certain additional qualities that are a must-have for future business leaders. Here are some of them:
Awareness and Skills:

Awareness of current affairs, technology, economics and business news
Communication skills
Leadership and team building skills
Analytical skills
Motivation and Attitude:

Well defined reason to pursue an MBA and clarity of goals
Good self-awareness in terms of strengths, weaknesses and failures
Proactivity, willingness to take initiative, energy and enthusiasm, positive mentality
Leadership Virtues:

Integrity
Ethics
Social Responsibility
Diversity in:

Educational background
Professional background
Personal interests and initiatives apart from academic and professional
7. Any words of advice for applicants?
Beyond the usual preparation tips for the WAT and GD/PI, I strongly advise applicants to read. Develop this very important habit. Read the news, self-help books, business magazines, any material that will not only help you improve your language skills, but also increase your knowledge substantially. This will not only help you during the interview process but for a successful management career as well.
Secondly, take up initiatives if you haven't already. Practice being a leader, with empathy and understanding. Practice dealing with different kinds of people. You will need these skills throughout the program and after that as well.
Begin your applications early. Introspect and meticulously list out all your achievements, and gather all supporting documents for the same. PGPM aspirants would need to spend more time on thoughtfully composing essays that form an important part of the application process. Make sure you talk about your strengths, weaknesses, initiatives and challenges with examples.
Most important of all – Stay Authentic and True.