– An Article authored by BIBS, Kolkata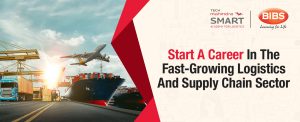 Future of Supply Chain in India
The future of supply chain in India looks promising with the country's rapid economic growth and its increasing role in global trade. Here are some trends and factors that could shape the future of supply chain in India:
Adoption of technology: The use of advanced technologies such as artificial intelligence (AI), blockchain, the internet of things (IoT), and robotics are expected to increase in the Indian supply chain. These technologies can improve the speed, efficiency, and transparency of supply chain processes, reducing costs and improving customer satisfaction.
Logistics infrastructure development: India has been investing heavily in its logistics infrastructure, including highways, railways, ports, and airports, to improve the efficiency of supply chain operations. This will reduce transportation costs, lead times, and help to develop new markets for businesses.
E-commerce growth: India is one of the fastest-growing e-commerce markets in the world, with online sales expected to reach $200 billion by 2026. This growth is expected to drive the development of last-mile delivery systems, creating new opportunities for supply chain companies.
Government initiatives: The Indian government has introduced several initiatives, such as the "Make in India" program and the "Digital India" campaign, which aim to boost domestic manufacturing and the digital economy. These initiatives have the potential to drive economic growth, create jobs, and improve the country's competitiveness in the global marketplace.
Why an MBA in Supply Chain Management matters:
An MBA can be important for supply chain management. The field of supply chain management has become increasingly complex, with companies relying on global networks of suppliers and distributors to deliver products and services. As a result, companies are looking for professionals with strong business acumen and a deep understanding of supply chain management principles to lead these efforts.
MBA IN SUPPLY CHAIN MANAGEMENT
It is an industry-integrated management programme that starts with intense classroom learning, followed by 12 months of industrial training that adept's students with industry experience in sync with business learnings. Post apprenticeship, students get the opportunity to crack Pre-Placement Offer (PPO) or opt for placement opportunities offered by the institution. The curriculum of MBA in supply chain management brings a balance of industry-academic interface giving BIBS students a competitive edge over other institutes.
Advantage of MBA in supply chain management from BIBS
BIBS is one of the top MBA colleges for supply chain management in India with a 12-month Industry focused classroom training, that incorporates the learnings of management as well as the core skill in Supply Chain Management, taught by illustrious faculty members from BIBS and Industry experts from the top SCM based organizations.
Major Logistics, Supply Chain & Ecommerce Giants like Big Basket, Delhivery, Ecom Express, Flipkart, and many more will teach the students as well as assist in providing Final Placement Opportunities with the Supply Chain and Logistics Industry.
Industry visits to Max warehouse, Amazon, Flipkart and many others have helped students gauge the real industry scenarios to help convert their theoretical learning in class with practical understanding of the Industry within a real-time learning environment.
Get final placements based on your skills in the Supply Chain verticals through the Tech Mahindra Industry Connect as well as the 3-tiered BIBS Placement Cell that has a Local, National as well as international presence.
Highlights of the programme:
Affiliation :
A Regular Full – Time MBA Supply Chain Management affiliated to Vidyasagar University, NAAC accredited, W.B State Government University, recognized by UGC, Ministry of HRD of the Govt. of India, acknowledged for government jobs or higher education.
Powered by Tech Mahindra Smart Academy for Logistics :
Steered by one of the leading institutes in Supply Chain that has reshaped successful careers for thousands of students over the years. The foundation will train and provide certification in SCM, giving them a benchmark of excellence in the Supply Chain Management field.
Earn while you learn : Get trained by Amazon, DHL, Reliance Retail, and many more in the field. This will give you actual industry insights and make you get industry ready to perform in C-Suite positions in your long-term career.
Guaranteed Placement : For the first time in Kolkata, BIBS is offering a course in SCM with Industry-ready curriculum and 1-year paid traineeship program in leading SCM companies. BIBS maintains consistent year-on-year placement records with more than 60% of students getting Final Placement offers from companies post their apprenticeship program
The Tech Mahindra Advantage:
TRAINING FOR EMPLOYABILITY: With an MBA in supply chain management under BIBS students get knowledge and mentorship which is focused on imparting skills that are suited to get the best career opportunities in the logistics and supply chain management industry.
INDUSTRY VISITS: Training by Subject Matter Experts and Faculty is complemented with learning by doing through regular industry visits and meeting supply chain leaders to develop a keen insight into the practical working of the logistics and supply chain markets.
PLACEMENTS:
Students get relevant internships and training projects during the MBA in Supply Chain Management programme. The Tech Mahindra placement wing and the BIBS 3 – tiered placement cell will bring the best companies in the industry to recruit students for their Final Placements.
BACKED BY INDUSTRY EXPERTS:
BIBS is the only institute that brings in the best industry leaders from Tech Mahindra. They focus on implementing the best practices that strengthen their core learning.
CAREER PROSPECTS:
After completing the course, students will get logistics certification to work across industries like manufacturing, e-commerce, service industry, shipping, aviation, consulting firms, and more. Students can also get the opportunity to work across multiple functions like planning, project management, resource management, consulting, and strategizing.
BUSINESS-SPECIFIC CLASSROOM LEARNING:
BIBS focuses on imparting education that offers students the best of both worlds. The supply chain industry stalwarts train the students with a comprehensive knowledge of the business world, and practical knowledge that adepts them with the specifics of industrial operations.
For more information about the institute, please visit: http://bit.ly/42qWCCV