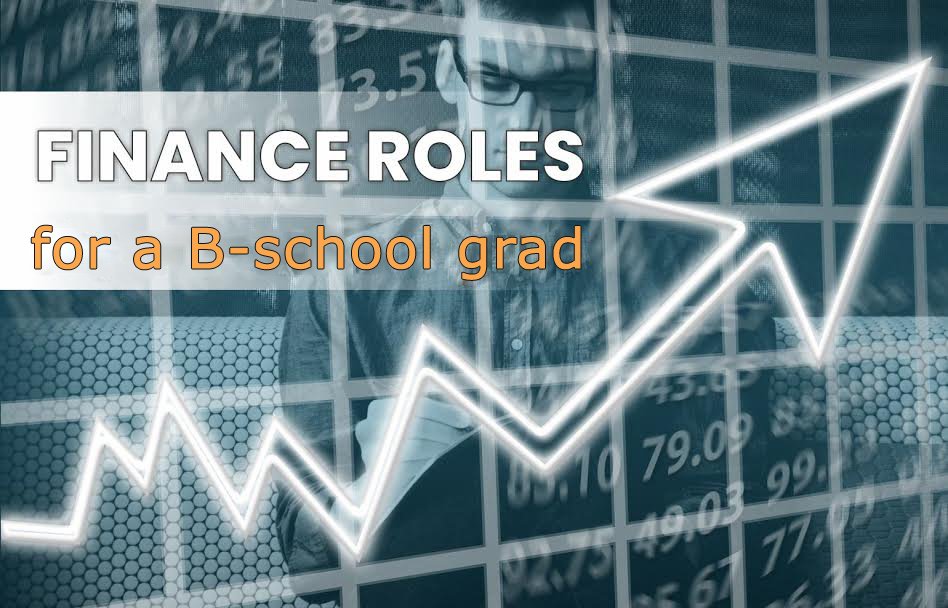 Placement activities at B-schools are largely the core of students' focus during the two years of the course. They expect that admission to a B-school is a step towards a virtuous position in a company, with high remuneration, and a fast track career. However, B-School students often face a dilemma on how to make the right career choice when the options available are many. The issue becomes pressing especially for students who do not have any work experience, and very limited knowledge of different areas and the roles available therein.
In the Finance domain, a candidate can specialize in the below-mentioned roles after completing the two-year program.
Career Options in Finance After an MBA
The role of an MBA with a finance specialisation is often dictated based on the industry that employs him/her.
A plethora of opportunities are available with consultancy companies such as E&Y, KPMG, Deloitte etc where MBAs are in charge of a client project and provide solutions based on the financial structure and feasibility of projections. Mergers and Acquisition (M&A), financial restructuring and funds management are other types of assignments which an MBA is responsible for in such roles.
Investment banking is another core area where MBAs are recruited in large numbers. Roles in these international banks are often designated as operations manager, wealth manager, credit manager, controller, treasurer, consumer loan manager, financial planning director, etc.
Equity research firms and investment services also recruit MBAs as equity analysts or investment consultants. These are consultancy roles where the person advises the clients of these firms, on the best strategy for their investments.
Finance specialists are also in great demand in start-up companies. Here they play an important role in advising the new enterprises on the financing strategies required to grow to the next level. These persons provide the financial pitch to Venture Capitalists and investors for the funding requirements of the start-ups. These start-up companies also provide a large learning platform for an early career applicant.
Multinational banks recruit MBAs from Indian B-schools as they provide best possible knowledge of the Indian consumers and the market landscape.
In the banking industry the role has to ensure that banking procedures and norms are followed as laid down by the regulatory bodies, alongside warranting that the entity maintains a profitable banking business within the controls.
A career in managing finance in a manufacturing or service organisation is often focused on sustaining the financial goals of the company. Within such an organisation, an MBA is responsible for its current financial status and the future financial strategies. This role requires monitoring the financial condition of the company and ensuring the financial viability of the decisions made. The role often combines financial accounting and cost accounting knowledge acquired by the MBA student.
MBAs with a finance specialisation generally have a faster career growth with key responsibilities. At later stages of their career they form an important part of senior management and oversee important decisions which a company takes for its future growth.
Students in B schools are often in a hurry to get placed at the campus, and get out of the pressure situation which arises when the rest of their batchmates are getting placed. The "placement race" begins at the campus, with each student vying to get the job with the highest salary and the biggest brand.  Peer pressure often forces the student to take a hasty decision which later he/she finds out to be a mistake. It often takes a long time to reverse the decision and get into another role where they are able to function with their maximum potential.
It is important therefore, a student before joining an organisation, spends time studying the company, its products, services and the culture. He/she should evaluate every role and opportunity, to see how it fits into his/her long-term career aspirations.
About the Author
Umesh S. Mahtani – Associate Professor in the Department of Finance and Accounting, Goa Institute of Management, Goa, India.
Prof Umesh Mahtani has an MBA (PGDM) from IIM-Bangalore and is a qualified accountant from Chartered Institute of Management Accountants (CIMA-UK) plus a CPA from AICPA-USA. He has published several research papers in reputed journals in the area of finance and accounting. He has over 25 years' industry experience managing the finance function in various organizations in India, Malaysia, Singapore and Nigeria.