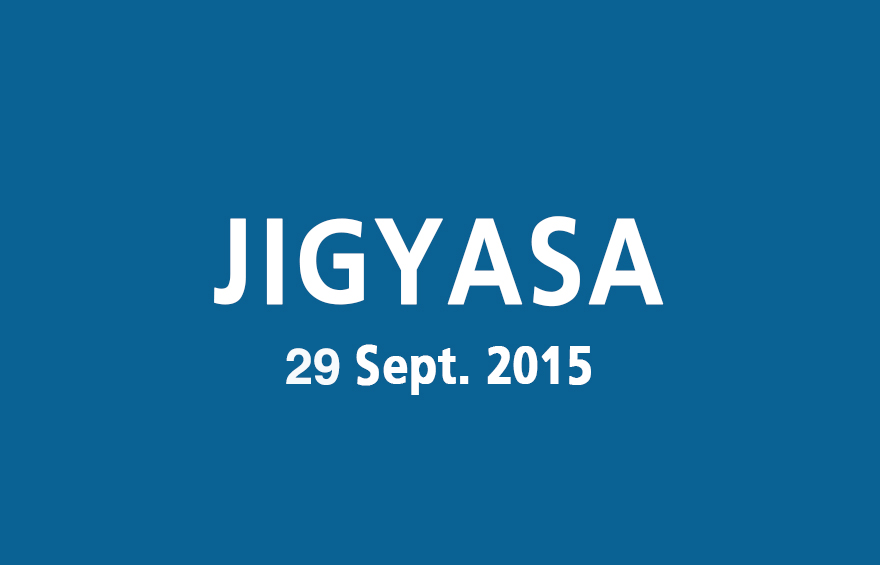 Dear Aspirants,
Here is the Jigysa: Daily Current Affairs Quiz of September 29, 2015 for you!
Suresh Prabhu has launched the Indian Railway Knowledge Portal in September, 2015. Name the portal.
R-Portal
E-Portal
K-Portal
Rail-Portal
Answer: 3
Which of the following Indian companies has signed a strategic Memorandum of Understanding (MOU) with Emirates Defence Industries Co. in September 2015?
JSW Group
DHL
Tata Power
Reliance
Answer: 4
India's first dedicated space observatory, was launched on 28th September, 2015 at 10 am from the spaceport of Sriharikota in Andhra Pradesh. Name the satellite.
ASTROSTAT
PSLV-01
MITRA SHAKTI
ASTRONAUT
Answer: 1
Which of the following internet companies has announced a proposal for introduction of broadband connectivity, through Wi-Fi hotspots, at 100 railway stations on 28th September, 2015?
Yahoo
Google
Facebook
Netflix
Answer: 2
V Shanmuganathan has been given an additional charge of Manipur after the demise of incumbent Syed Ahmed Khan who was the governor of Manipur. V Shanmuganathan is the present Governor of which of the following states?
Mizoram
Maharashtra
Meghalaya
Tripura
Answer: 3
RBI governor Raghuram Rajan cut repo rate by 50 basis points to ……percent on 28th September, 2015
Answer: 2
"Fighting poverty in Asia and the Pacific" is the motto of which of the following banks.
NIC Asia Bank
Advanced Bank of Asia
Asian Development Bank
Asian Housing Finance Limited
Answer: 2
World Heart Day is celebrated on…..
20th September
25th September
27th September
29th September
Answer: 4
Which of the following Cricketer has lent his voice to Swachh Bharat anthem?
Harbajan Singh
Sachin Tendulker
Virat Kohili
Kapil Dev
Answer: 2
Exercise MITRA SHAKTI-2015 has been conducted from 29th September, 2015 at Pune. It is in continuation with the series of Joint Military Exercise between India and ……
Sri Lanka
China
Bangladesh
Nepal
Answer: 1
Happy Reading!!
TEAM CL