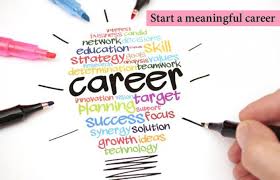 'Which career is the right one for me?' If you find yourself asking this question, you are at a point of making one of the first important decisions in your life. There are too many aspects to consider while choosing the right career. Add to this the fact that everyone around you, including that neighbour you just can't help avoid, has an opinion on the matter doesn't help.
It was Confucius, the ancient Chinese philosopher, who first said, ''Choose a job you love, and you will never have to work a day in your life." To the undecided one, this may seem easier said than done. It is, however, essential to the decision you make.
In this blog, we'll take you through a step-by-step approach to choose the career that is most suitable for you.
1. Know yourself: Identify your skills, interests, and personality
The first step to choosing the right career is being fully aware of your skills, interests, and personality. There are several websites that offer 'career tests' to help achieve the same. Some of them may vary in quality, but please, for your own sake, do not fall for those which come up with stereotypical results. For instance, ESTP personality types make good computer technicians. No, not necessarily, they don't!
You need a test that offers a comprehensive psychometric assessment. Here are a few characteristics of such a test:
It identifies your unique personality profile using intricate questions designed by psychologists
It is based on extensive research with a large number people who are in those careers
It uses introspective global models, such as Myers-Briggs Type Indicator
It matches your individual personality to relevant careers
It accounts for job requirements and demands
It is statistically proven to be valid and robust
As part of our career counselling programs, we at Career Launcher have developed a psychometric assessment that takes into account all of these factors; and have resulted in many people finding their suitable careers over the past two decades.
2. Explore your options and choose the right career
Your in-depth psychometric assessment report should include a list of select few careers that are most suitable for you. Along with this, you should get answers to the essential "what, where, when, why, and how" questions related to your career choice. It is important at this stage to study your options in and out, match them with your goals, and seek guidance from experts.
In order for you to grasp a thorough understanding of your decision, we help you evaluate your detailed psychometric assessment report, explore your options, choose a career, and have a robust career action plan.
3. Develop a Career Action Plan
A career action plan is a roadmap to your future. It is a definitive outline on how to achieve your career goals. Once you've decided on your career choice, the final step is to list out all your goals – professional and personal, short and long-term – and chart out an action plan on how to achieve them.
If choosing a career is about where to go, having a career action plan is all about how to reach there. This includes selecting the best colleges, and how to apply and prepare for them. It includes knowing which colleges are better than others in all respects (such as education, exposure, placements, etc.), when they have their entrances, what they seek in a candidate, and more.
We help with this by sharing insights into the best colleges, more than 350+ entrance exams, 100+ of scholarships and competitions, and all you need to know about how to achieve your career goals.
In order to ensure that all your doubts and queries are satisfactorily addressed, we don't simply hold a single counselling meet and share a 'suitable' career choice. Our career counselling programs are specifically designed to help you every step of the way and provide guidance for up to 6 months, and beyond, if you'd like it!
What's more?
All our Career Counselling programs are now completely free to access for the first 48 hours after registration.
So, go ahead.
Avail free access to our Career Counselling programs
If you've already made your career choice and seek information on how to achieve your career goals, check out our Career eBooks, at a flat price of just INR 100 a copy.
We hope this blog helps you choose the career that's suitable for you. In case you have any questions, please write to us in the comments section below; and we'll get back to you with a prompt response.
You may like to read our recent posts 'Board Exams and Entrance Test Preparation: Where should your focus be?' and '10 tips to prepare for CBSE Class X Board exams'.
For more such posts, subscribe to the blog and stay tuned.
All the best!