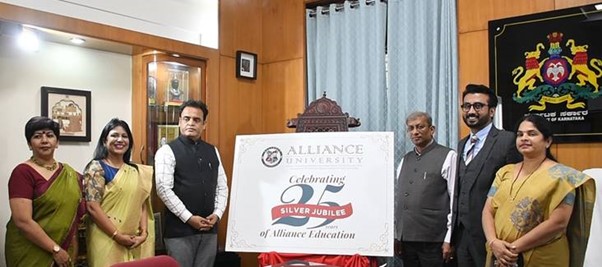 As Alliance embarks on its journey of 25 years of excellence in education by celebrating the silver jubilee in 2022, Alliance Education continues to be a beacon of quality and transformation. Honourable Minister for Higher Education, State of Karnataka, Dr. C.N. Ashwathnarayan unveiled the logo of 25 years of Alliance Education symbolizing literacy, critical thinking, humanistic and scientific inquiry, leadership and philanthropy, and the continuous cycle of learning.
The Honourable Minister congratulated Alliance for completing 25 years of existence and took note of the fact that the University continues to provide quality education, which is the true hallmark for transformation, and has reached out to all sections of the society, while overcoming certain challenges in the process. Dr. C.N. Ashwathnarayan expressed his appreciation upon learning that the University has been taking steps in the right direction towards fostering holistic education and reassured that the State Government will continue to support private universities in enhancing student diversity and improving overall quality of education. The honourable minister encouraged Alliance University to contribute further to the society at large owing to its potential to achieve greater milestones with focus on continuous improvement, both within the state and the country.
Alliance University is Karnataka's First Private University established in the Year 2010 by Act No. 34 and is recognized by the University Grants Commission, New Delhi. While the University has left an indelible mark in the higher education space through its offerings in fields of management, engineering, and law, as part of its growth trajectory, the University will steer into the fields of liberal education, digital technology, and applied mathematics as part of its plan for the year 2022 and beyond.
The University through its strong governance and able leadership; with best-in-class faculty from across the globe; and world-class infrastructure, will welcome into its fold students from diverse backgrounds and focus on increasing the gross enrolment ratio while offering meritorious scholarships to the deserving. Through its cutting-edge research collaborations with leading organizations; partnerships with renowned international universities; robust industry-academia linkages; and a clear vision to contribute to social outreach, the University aspires to improve continuously and create new benchmarks in the higher education landscape in the country.
Alliance University extends warm gratitude to the Higher Education Minister of Karnataka State, Dr. C.N. Ashwathnarayan for unveiling the logo marking the Silver Jubilee Celebrations and will continue to support the government in fulfilling its vision of a state with enhanced access to higher education based on the principles of equality, diversity, and growth.