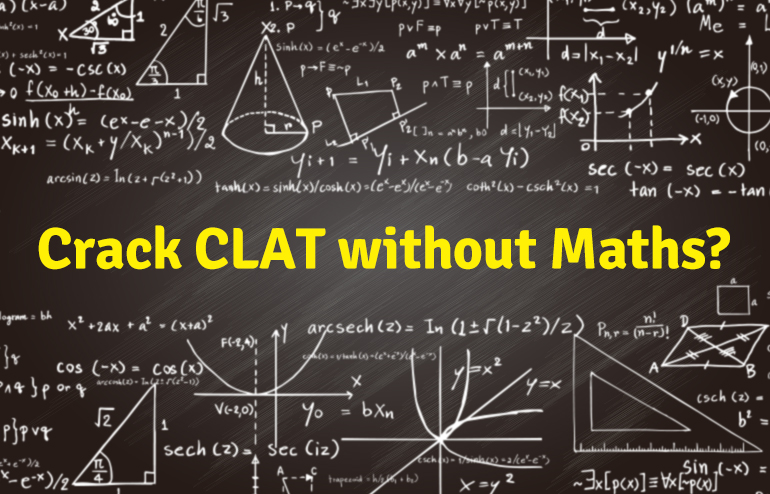 CLAT syllabus has a mathematics section of 20 marks. For further clarity, the CLAT syllabus consists of:
• General knowledge and current affairs (50 marks)
• Legal aptitude (50 marks)
• English grammar and comprehension (40 marks)
• Logical reasoning (40 marks)
• Elementary Mathematics (20 marks)
While Mathematics section appears to have the least marks concentration, it would be unwise to leave it out altogether. The known number of applicants who write CLAT every year is roughly around 50,000 or more (or less). This clearly justifies the level of competition. And, for an exam as competitive as 50,000 individuals fighting for their seat, every single mark is indeed an advantage. Of these many candidates fighting for a chance, roughly around 1,000 students get the privilege of securing a seat into top Indian law schools.
How to tackle Maths in CLAT?
CLAT math syllabus can be broken down into these 4 categories:
• Arithmetic
• Commercial Mathematics
• Mensuration
• Modern Mathematics
• Data Interpretation
Unlike the other sections of the CLAT exam, the Elementary Mathematics section is less subjective and more straightforward. The point here is, not only does the section contain straightforward questions but it also has the minimum weightage.
The very reason that mathematics section consists only of 20 marks is why you shouldn't drop it. Considering the weightage, with selective studying (referring to past questions) Elementary Mathematics can be covered under a few weeks. This will ensure full section coverage and plus, it will help in overall scoring as well.
When we look at the past CLAT toppers record, one of the most evident features is the scoring pattern. It is noticeable that the score pattern runs 35-40 in legal aptitude, 30-35 for GK, and so on. This goes on to show that leaving out a section is a risk you don't want to take. Every section is a chance to add marks to your overall scores.
So to answer the ever-interesting question of, 'can I crack CLAT without maths,' the answer is yes. One can definitely crack CLAT exam if the other sections are spot-on to shine exact or beyond the cut-off range. The loophole here is the next infamous question, 'Is it wise to leave out mathematics', the answer is no. As mentioned earlier, it would be dangerously unwise to leave out the one section which gives you the leverage of 100% accuracy. At the end of the day, it all rests upon you to decide which path you wish to choose. But please look at it in different lights then decide, as the decision will impact your opportunities to fulfill your LLB dreams.
Best of luck for CLAT!