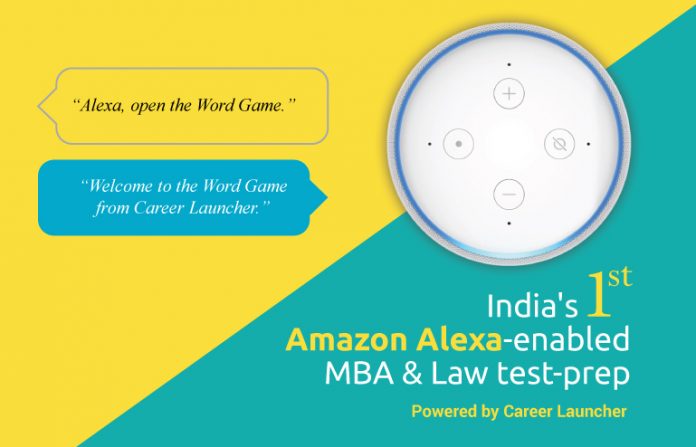 Yes, you heard it right! Now you can boost your preparation for MBA and Law entrance exams with advanced skills especially designed for Alexa, Amazon's voice-based intelligent personal assistant. Powered by Career Launcher's decades of experience in entrance test preparation, this innovation brings forth a new era of learning.
How Alexa works
Firstly, what's Alexa? Simply put, Alexa is Amazon's cloud-based voice service. You can talk to Amazon Alexa through your device. You could ask her to play music, listen to news, check weather predictions, control other smart devices, and now, you can even bolster your preparation for MBA and Law entrance exams with it. Its voice-based AI is so appealing because it supports a way of learning that is natural to us humans – speaking and listening – with no typing necessary.
The Amazon device called Echo connects to the Internet via a WiFi network. It's always switched on and waiting to listen to the magic word that would wake it up. The device has several microphones that can hear your voice from across the room, even over other environmental noise. Once it hears the word, it gathers the commands that follow and sends them to Alexa Voice Service, its natural voice recognition service, which interprets them and sends back an appropriate response.
Data, artificial intelligence and machine learning are the foundation of Alexa's power. As its popularity and the amount of data it gathers increases, it is going to become stronger & extremely versatile. Every time Alexa misinterprets your request, it uses the data to make the system smarter the next time around. Machine learning is the reason for the rapid improvement in the abilities of the voice-activated user interface. We understand this and have leveraged it with all our accumulated knowledge to launch the following services that make learning easier than ever before.
How will Alexa-enabled learning help you?
Our Alexa-based learning services have been specially designed keeping in mind the requirements of MBA and Law aspirants. Take a look at these services below to understand how it helps.
CL MBA Aspiration
This is your personalised AI-powered assistant to help you through MBA entrance preparation. Got a question? You no longer have to wade through multiple links to find a specific answer you are looking for.  Simply ask.
"Alexa, open Aspiration and find out the total number of seats in IIM Ahmedabad last year?"
"IIM Ahmedabad has a total of 385 seats"
All the information you may need about pursuing MBA has been configured into the app. Be it top colleges, important dates, cutoffs, analysis, etc. we've got you covered.
CL Law Aspiration
Similar to CL MBA Aspiration, this is your personalised AI-powered assistant to help you through Law entrance preparation.
"Alexa, open Aspiration Law and tell me which is the best Law college in India"
"The best Law college in India is the National Law School India University, Bengaluru"
There you go. Finding out crucial updated information about Law colleges, entrance exams or law as a career has never been so easy!
CL Word Game
This is a vocabulary game where you will be challenged to score points by listening to a word and identifying the correct synonym or antonym from the given options. This way, you can learn without even needing to ask.
Simply say, "Alexa, open the Word Game" and it will follow up with questions instantly.
You also get a comprehensive report on where you stand compared to your peers so you can improve your vocabulary skills within minutes every single day.  
CL Knowledge Game
This is a General Awareness game where you will be challenged to score points by correctly answering GK questions.
General Knowledge is an important subject in major MBA and Law entrance exams; this engaging service makes it quick, engaging, and competitive. Similar to the CL Word Game, you get your performance scorecard so you are motivated to use your spare time to learn and get an edge over your peers.
To play this game, simply say, "Alexa, open Knowledge Game".
Learning has never been so engaging or quick. So what are you waiting for?
Simply ask. Your voice is our command.
Visit our dedicated Alexa page to know more about these services and how they enhance our MBA and Law entrance preparation programs.