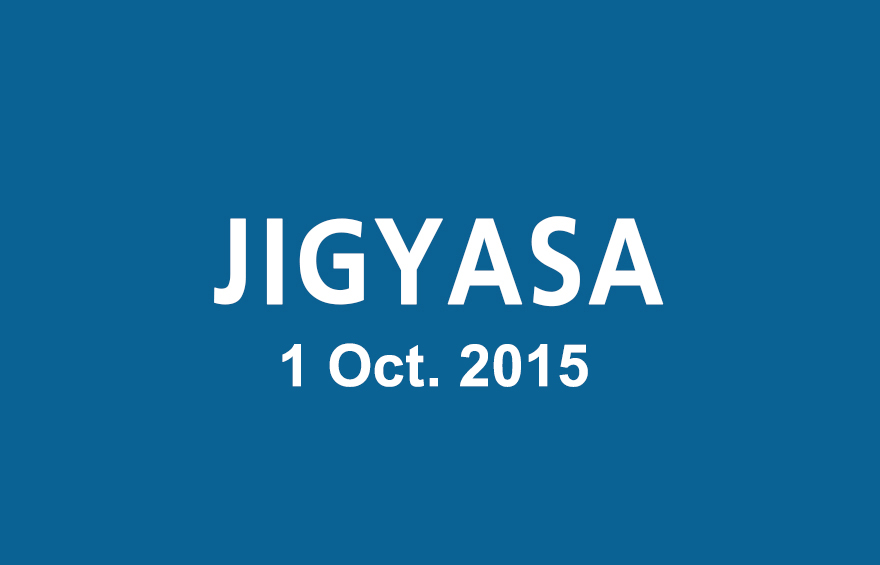 1.President Pranab Mukherjee on 5th November, 2015, has launched a scheme which – seeks to develop a road map for research to solve major engineering and technology challenges in 10 technology domains relevant for the country. It is a joint initiative of Indian Institutes of Technology (IITs) and Indian Institute of Science (IISc). Name the Programme.
Inprint India
Imprint India
Digital India Map
Indian Technology Road Map
Answer: 2
With which of the following countries India has signed two agreements, one in the field of water resources and a cultural pact in November, 2015?
Israel
China
Palestine
Bangladesh
Answer: 2
Name the first Chinese Vice President to visit India in more than six decades on 6th November, 2015?
Xi Jinping
Rong Yiren
Li Yuanchao
Zeng Qinghong
Answer: 3
Which of the following states has announced a package of nearly 1,400 crore rupees for drought-hit farmers in November, 2015?
Answer: 3
Central Government on 6th November, 2015 has approved the Kerala Tourism's proposal for creating a world-class eco-friendly project in Gavi-Vagamon region.
Pathanamthitta-Gavi-Vagamon-Thekkady project would be among the first such tourism projects to be built under the new scheme of the Union Tourism Ministry. Name the scheme.
Desh Verman
Kerala Darshan
Swadesh Darshan
Incredible India
Answer: 3
The Reserve Bank has imposed Rs 1 crore penalties on one of the following Banks for violation of Know Your Customer (KYC) and Anti Money Laundering (AML) norms in November, 2015. Identify the Bank.
Bandhan Bank
Bank of Baroda
Dhanlaxmi Bank
Bank of Maharashtra
Answer: 3
Which of the following banks has been has been included in the second schedule list, making it eligible for loans from the central bank at bank rate by Reserve Bank on 6th November, 2015.
Bandhan Bank
Andhra Bank
State Bank of India
Punjab National Bank
Answer: 1
With which of the following e-commerce pioneers in India, Satya Nadella, CEO, Microsoft Corporation in November, 2015, has announced partnerships as an initiative for start-ups aligned to smart cities?
Justdial
Paytm
Snapdeal
All of the above
Answer:4
The Bankruptcy Law Reform Committee has submitted its report on 4th November, 2015 recommending the establishment of an insolvency regulator to exercise regulatory oversight over insolvency professionals, insolvency professional agencies and informational utilities. The Committee was headed by-
AP Shah
Krishan Verma
Raj Vir Menon
K. Viswanathan
Answer: 4
Who among the following has been awarded with 2015, Vishnudas Bhave Award for his outstanding contribution to Marathi Theater?
Vinod Chauhan
Ek Nath Yadav
Vikram Gokhale
Prithvi Raj Chauhan
Answer: 3