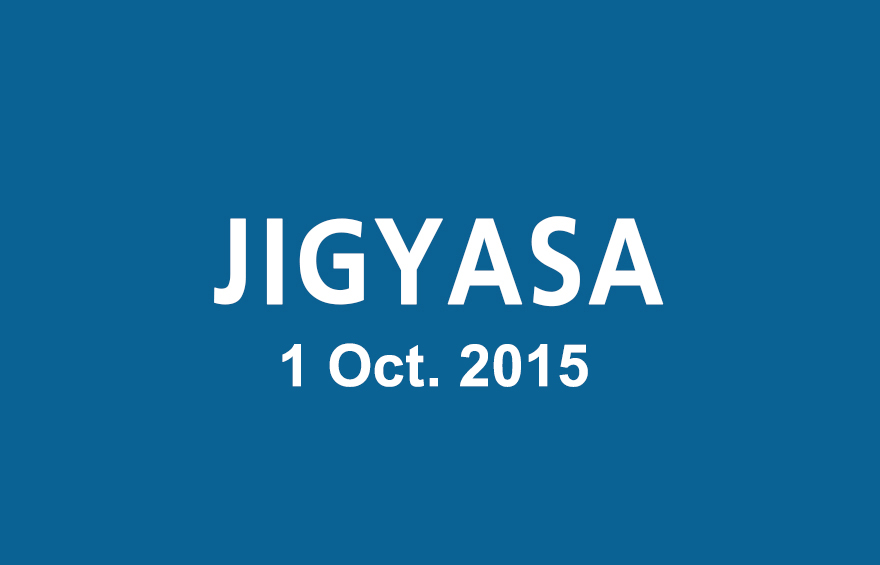 Dear Aspirants,
Here is the JIGYASA: Daily Current Affairs Quiz of December1,2015 for you!!
President Pranab Mukherjee on 30th November, 2015 presented Dr APJ Abdul Kalam IGNITE award to 31 … across the country.
Sepoys
Scientist
Doctors
school children
Answer: 4
Name the project inaugurated by Union Human Resource Development Minister Smriti Irani at the Indian Institute of Technology- Gandhinagar in Gujarat on 30th November, 2015 under which institutes of higher education will host guest lectures by internationally and nationally renowned experts and evolve a comprehensive Faculty Development Programme.
Answer: 1
Jana Chaitanya Yatras (mass contact programmes) is beginning on 1st December, 2015 to educate the people on the welfare schemes launched by the State government and elicit the views of the people on the status of their implementation. This program has been under taken in…
Odisha
Rajasthan
Andhra Pradesh
Madhya Pradesh
Answer: 3
Name the political leaders of Bangladesh who has surrendered before a Dhaka court on 30th November, 2015 in an about 1.8 billion dollar graft case involving a gas exploration and extraction deal awarded to Canadian firm Niko during 2001-2006?
Khaleda Zia
Sheikh Hasina
Tarique Rahman
Hussain Muhammad Ershad
Answer: 1
Indian Railways has signed 40,000 crore rupees contracts with General Electric and Alstom Transport to set up two locomotive plants in one of the following states. Identify it among the given options.
Bihar
Assam
Odisha
Jharkhand
Answer: 1
The currency of which of the following countries has been included into its elite reserve currency basket by International Monetary Fund (IMF) on 30th November,2015?
Chile's Peso
Indian rupee
China's Yuan
Jamaican dollar
Answer: 3
China's Yuan is also known as the …
Answer: 4
Who among the following former Indian cricketer has stepped down as the Chief Mentor of IPL franchise Mumbai Indians with immediate effect from 30th November, 2015?
Ajay Jadeja
Ravi Shastri
Anil Kumble
Sourav Ganguly
Answer: 3
'World AIDS Day was observed on…
27th November
29th November
30th November
1st December
Answer: 3
The theme of 'World AIDS Day for 2015 is
Close the gap
Getting to Zero
On the fast track to end AIDS
'Getting to zero, End Aids by 2030'
Answer: 4
Happy learning!
TEAM CL